Aimee Garcia - Trauma
By Kiko Martinez
San Antonio Current contributing writer
While doing research for her role on the new NBC show Trauma, Chicago-born actress Aimeé García realized what a big responsibility she had by taking on the role of Iraqi war veteran-turned-EMT pilot Marisa Benez.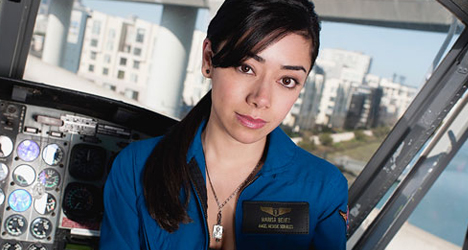 "I'm not only representing a Latina, I'm also playing a soldier and a hero," García told me during a phone interview to promote the first season of her new TV show. "These guys are the Navy Seals of the medical world."
Best known for her role as George Lopez's rebellious niece Verónica Palmero in the final season of The George López Show, García makes her move from comedy to drama in a role she calls "very technical."
From simulated helicopter rides to intense storylines that deal with life and death, García says she feels blessed to have found another home on TV. During the interview, she talked about what makes her character so different from anything she has ever done before and why "Trauma" isn't an average medical drama.
Trauma premieres Sept. 28 on NBC at 8 p.m.
What was it about Trauma that made you want to be a part of it?
`Producer` Peter Berg has such an amazing reputation with Hancock, Very Bad Things and Friday Night Lights. I wanted to be a part of it. I came in and met the producers. They were kind enough to say, "That's the girl." I was the only one they brought to NBC. Lucky for me, I won the role.
It's been a couple of years since The George López Show. How does it feel to have a consistent role on a TV show again?
It's everything I could have hoped for and more. I felt very much at home on The George López Show and made life-long friends there. I really feel like I cut my teeth with George López, Andy García and Rita Moreno. Now, I'm doing drama and it feels more like a feature film. Every single day is different. As we speak, I'm reading a scene where they are having me pop in some guy's eyeballs. It's guerilla filmmaking on the small screen.
Tell us about your character Marisa Benez.
She is an Iraqi war veteran. She has done two tours as a pilot. She's flown everything from Apaches to Black Hawks. She's used to transporting injured Navy Seals and fly a helicopter while being shot at. She's tired of seeing her friend being killed on the frontlines, so she decides to `end` her military `career` and come to San Francisco to help civilians and kids fight for their lives. She has a little bit of post-traumatic stress disorder with everything she's seen in the war. She's a really cool chick. I hope I do her justice.
How much helicopter training did you have to go through for this role?
I had to spend hours in a helicopter and learn the ins and outs. I had to talk to Air Traffic Control and learn that lingo. I also had to learn the EMT side of it. It's a very technical role.
Did you train with actual EMTs?
Yes, I did ride-a-longs in ambulances with San Francisco paramedics. I was inside an ambulance as they were answering 911 calls. It was a life-changing experience. It's pretty incredible to spend time with people who others rely on so much. That's what's so great about this show. These people literally walk into circumstances that they've never seen before. They are the first on the scene. They're the ones that are going to have to deal with the messiness of the situation. They're the ones that have to stop the bleeding. Now, when I go to work, I'm running away from explosions and putting on a flight suit and pretending to land a chopper in the middle of a freeway.
Does it worry you that there are a few other medical dramas also premiering this fall?
Not at all, we're the only medical drama out on the field. It's out on the streets. We're not shooting on a lot; we're shooting on location. We have everything that a medical drama should have — the blood and the adrenaline rush — but instead of an ER, we have a backdrop of the Golden Gate Bridge and the colorful characters that San Francisco brings. It's not a medical drama. It's an action drama that deals with medicine.