Kuno Becker - From Mexico with Love
By Kiko Martinez
San Antonio Current contributing writer
After four years of running up and down soccer fields for the Goal! trilogy, actor Kuno Becker, 31, exchanges his cleats for a pair of gloves in From Mexico with Love. In the film, Becker plays Hector Villa, a young Mexican immigrant who gets into the boxing ring to support his family and prove to everyone that he has what it takes to win.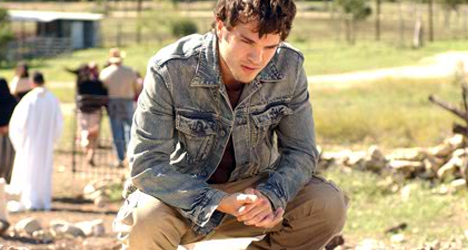 Were you much of a boxing fan before taking on this role in From Mexico with Love?
Well, I like Mixed Martial Arts. I followed a little bit of boxing, but it wasn't like I've been following it since I was a kid. I check out as much boxing as I can. But, you know, this isn't a movie just for boxing fans. At the end of the day, a lot of people are going to be able to relate to it in different ways.
Compare the physicality of boxing to other sports you've played like soccer in the Goal! trilogy.
It's a lot tougher to play soccer and make it look believable. But in boxing, it was easier for me. I got injured a lot more in the soccer world. In soccer, I pulled muscles. I thought boxing was going to be tougher. During the fighting sequences everyone would get a little bit hurt, but it wasn't a big thing. It was a lot of fun.
What kind of training regiment did you have to go through for this movie?
I had to train for two and a half months. It was pretty tough. I had to gain weight and look a little bit more physical. I had to learn how to punch and make it believable.
Your director Jimmy Nickerson has a background in stunt work. Were you able to go a couple of rounds with him?
Yeah, 100 percent. He actually invented a device for the camera that you can actually hit. The way he shot the fighting sequences and with his background coordinating fights was really important for us.
What did you learn about boxing that you didn't know before you started shooting?
When you punch somebody in the ring, you have to use your whole body. I learned that it's more about technique than physical strength.
What was it about a character like Hector Villa that made you want to take it on?
I wanted to take it because I thought the script was a lot of fun. It has a lot of great moments. I thought it was funny and entertaining and emotional and inspiring. That's what I loved about the project. Also, what I loved about the script was that it was a simple story about a simple guy that was fighting for honor and his love.
In the poster for the movie you're pictured with one boxing glove with the American flag and one with the Mexican flag. Why is this important to show?
I think it's important because there is a issue about immigration that is happening now. It's part of society. The movie isn't about that but it is used as a dramatic vehicle for the story. The cultural relationship between hard-working immigrants and society is important.
So, does fighting in this movie signify more than just boxing to you?
Yeah, he's fighting for his people, his love, his father, for himself.
What have you fought for in your own life?
I've fought for getting better characters and working in this business, which is crazy. I've been fortunate to work in this business, but at the end of the day you're always fighting for something.
How do you think you'd do as an amateur boxer now that you have some experience?
Oh, I'd get knocked out in a second. (Laughs) You never know. If acting doesn't work out for me, I'm going to have to do something else.