Luis Guzman - Old Dogs
By Kiko Martinez
San Antonio Current contributing writer
While there might be a famous proverb that reads, "You can't teach an old dog new tricks," actor Luis Guzman has to respectfully disagree.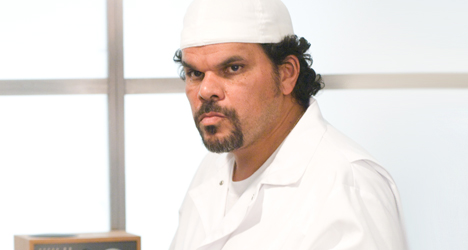 "Of course you can teach an old dog new tricks," Guzman, 53, told me during a phone conference to promote his cameo role in the new comedy Old Dogs, which stars John Travolta and Robin Williams."Sometimes you just come across a situation and you learn from it — you're wowed by it."
In the film, Travolta and Williams play Charlie and Dan, lifelong best friends and business partners whose lives are turned upside down when they agree to look after 7-year-old twins during the busiest week of their professional careers. Guzman, alongside comedian Dax Shepard (Baby Mama), plays an employee of a home safety company hired to childproof Charlie's apartment when Dan brings the kids to stay over. Along with childproofing the home, Guzman's character takes it upon himself to eat whatever he finds in the kitchen.
Known for his scene-stealing skills, Guzman had another cameo role last year in the Jim Carrey comedy Yes Man where he played a troubled man threatening to jump from a ledge. In the funniest part of the entire movie, Guzman and Carrey sing a duet to the Third Eye Blind song "Jumper."
Along with his roles in a number of comedies, including Anger Management and Nothing Like the Holidays, Guzman, who has been in the industry for over 30 years, has starring in such dramatic films as Traffic, Runaway Jury, and Dreamer: Inspired by a True Story.
Currently, Guzman, who was born in Puerto Rico, is working on How to Make it in America, an HBO show that follows two Brooklyn hustlers trying to achieve the American Dream in the New York fashion scene.
What was it like working with Dax Shepard in your scenes for Old Dogs?
I loved working with Dax. I think we have a really good chemistry together. I thought he brought a lot to the table. I think we did a good job complimenting each other. He's one of those guys that I hope I get to work with again. I just really dig his sense of humor. It works for him.
Tell us about your upcoming HBO show How to Make it in America.
I play this guy named Rene who happens to live in the neighborhood I grew up in. Rene is a hustler. He's a guy who's been through a lot. He's been to jail. He finally comes out and is trying to make his life better. But hustling is all he's ever known. It's a great story.
You were mentioned on an episode of the NBC comedy Community where they erected a statue in your honor on the college campus. Did they call you up for that and ask permission?
That was `director` Joe Russo. I did a movie with him called Welcome to Collinwood. They called me up about it. For me, for someone to do this, I thought it was an absolute honor and was flattered by it. It's cool when people ask you to do stuff like that.
You've been in this industry for over 30 years. I'm guessing you've already gotten to that point where you can pass on certain projects. Can you give us an example of a role that you might pass on?
I don't want to play an abusive father or an abusive husband. I don't want to be in something that is not significant. Sometimes people just want me in something just to have the name. I won't do that because if it's not something true to the storyline, then why do it? I don't want to be exploited like that.
What are some your favorite roles that you've had in your career?
I loved my role in Boogie Nights. I thought that was a great role for me. I loved my role in The Count of Monte Cristo and my role as the DA agent in Traffic. I loved my role in a movie called Maldeamores, which was a small movie shot in Puerto Rico a few years ago. To be honest with you, I enjoy most of my roles.