Ana de la Reguera - Cop Out
By Kiko Martinez
San Antonio Current contributing writer
In 2006, actress Ana de la Reguera's first opportunity to act in the U.S. came when she played Sister Encarnación, a nun at an orphanage who catches the eye of Jack Black's monk-turned-luchador character in the comedy Nacho Libre.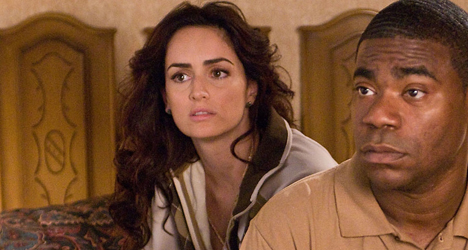 Since making her American film debut, de la Reguera has worked mostly on Spanish-language projects in Mexico, Argentina, and Colombia, including films such as Sultanes de Sur with Jordi Mollá (Che: Part Two) and Paraiso Travel with John Leguizamo (Nothing Like the Holidays).
Now, de la Reguera, who was born in Veracruz, Mexico, stars in her second American comedy Cop Out alongside Bruce Willis (Live Free or Die Hard) and Tracy Morgan (TV's 30 Rock). The movie was directed by Kevin Smith (Zach and Miri Make a Porno). In the film, de la Reguera, 32, plays Gabriela, a woman who escapes from a group of killers in Mexico and ends up under the protection of two New York City cops (Willis and Morgan).
During an interview with me, de la Reguera talked about why it was hard not to laugh during the shoot and what she added to the script to make her character a bit more mischievous.
Have you been looking forward to the next opportunity to star in an American movie since your last one was four years ago?
Yes, but I love my career in Mexico, too. I've been doing amazing projects there. I work all over the place. I just chose things that I like and things I think I can do well. I've been trying to get more opportunities in the U.S. This was my next big one.
Was it a lot different only speaking Spanish in Cop Out since everyone else is speaking English?
Yeah, I don't speak any English in the movie so there are lots of misunderstandings between characters. That's what makes it funny a lot of the times. They don't know what is going on with me or what I'm doing or saying.
There is a scene where you are locked inside the truck of a car. I'm guessing you're not claustrophobic.
I'm not claustrophobic at all. I was happy because it was very sunny outside and it was comfortable, so I could take a little nap (laughs).
Did you get to teach Bruce Willis or Tracy Morgan any Spanish?
Bruce knows a little bit of Spanish. Tracy really has no idea. I didn't get to teach them too much. We were just working and having fun with the scenes. I think it was better that they didn't know Spanish because they weren't supposed to know what I was saying. For me it was harder because I had to pretend I didn't know what they were saying to me and sometimes they were saying something funny and I was supposed to be scared or crying. It was hard to keep a straight face when they were saying all these funny things.
Is it easier to act in English or Spanish?
It's easier for me to act in Spanish, but as soon as I get the lines in English and I know them by heart it becomes really easy. You don't have to worry about the language anymore. It just takes more time. In Spanish, I can learn lines in 10 minutes. In English, it's going to take an hour.
What was it like to work with Kevin Smith? This is the first movie he's directed that he didn't write himself.
I was a huge fan and we connected very well. We had a lot of fun working together. He really takes care of the actors and has great ideas all the time.
Did you have to stick to the script or did he give everyone some freedom with his or her characters?
Actually, my part was written in English on the script. I had to translate my own scenes. I asked Kevin if I could give her a dirty mouth. People that don't know Spanish aren't going to know what I am saying, but I am saying some terrible things. Kevin loved the idea, so we changed that.
So you added all your own curse words?
All of them. She didn't have any bad words, so I put all of them in.
Hopefully, they paid you a little more for writing and translating your scenes.
(Laughs) No, they didn't, but I was happy to do it and I was happy that they thought it was a great idea. We had fun with it and they trusted me. It felt really good.