Oscar Isaac - Robin Hood
By Kiko Martinez
San Antonio Current contributing writer
When a film is on as epic of a scale as director Ridley Scott's version of Robin Hood, it could be fairly easy for an actor to become absorbed on a set where elaborate costumes, countless set pieces and props, and hundreds of extras are necessary to create a realistic 13th century England.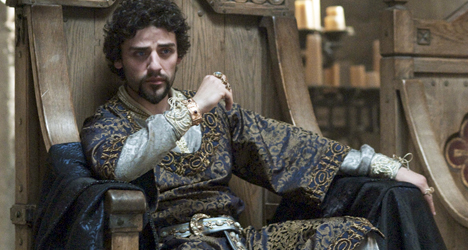 Actor Oscar Isaac, however, didn't allow himself to get lost in the shuffle.
"I thought maybe I would feel like a cog in a big machine, but I didn't," Isaac told me during a phone interview. "I felt like all my contributions were welcome. I felt a lot of freedom even though it was on such an incredible set with so many people. It was a really collaborate effort."
In Robin Hood, Isaac, who was born Oscar Isaac Hernandez, portrays King John, the arrogant ruler of England who imposes a harsh tax across the land. Isaac, who graduated from Julliard School in 2005, earned his first major role the following year when he starred as Joseph in The Nativity Story.
During our interview, Isaac, who is of Guatemalan and Cuban descent, talked about how he took on his demanding role as King John, how the character changed during production, and what it was like when Russell Crowe taught him how to ride a horse.
How do you tackle a character like King John? On one hand, he's a real part of history. On another, he has been added into this fictional narrative.
What's good is that there is a plethora of information out there about him. There is so much written about him and about that time period. It was a lot of fun to investigate and try to understand why he has the worst reputation out of all the English kings and try to understand his point of view and make a case for him.
Do you consider him a character in a fictional script?
For the film's purposes, yes. One has to meet the demands of the actual script itself. One of the main things we talked about was the purpose King John serves in our story. Ultimately, he is the symbol of tyranny in the film.
Do you consider him a villain in English history?
The law that he imposed was pretty Draconian and made it impossible to live. It is out of that where the Robin Hood legend was born. The truth is John did invent the most contentious ways to tax his people. They felt like they were being extorted. The birth of the Magna Carta and the birth of modern democracy was during John's reign. It is very steep in actual historical events. I think that's what is particularly interesting about this Robin Hood is that it really immerses you into the details of the time.
I read about some of the script problems during pre-production. Did your character go through any changes before or during filming?
Yeah, there were lots of changes, which was interesting and challenging. You can get a scene and then get the same one that shows a different side of the character.
Anything in particular that made you have to change the way you confronted the character?
The very last scene where King John declares Robin Hood an outlaw, that was a last-minute scene. When I got that, I was very excited about it because that is the first time I think you see a secure John even though he's doing something that a lot of people would probably find villainous. I think it's the first time you see John feeling the weight of his crown.
I know you've worked with Russell Crowe before in Body of Lies. Is there anything you take away with you to your next role after you work with someone like him?
Russell was so incredibly well researched. He knew every single version of the Robin Hood tale inside and out. He completely understood all the details of the time. It was really impressive. It confirmed to me that all the really great actors do their work. It was like going to school. Watching William Hurt work, too, and seeing his knowledge of the camera was incredible for an actor like myself who has never really had a lot of chances to work with people of that level. I've worked with a few, but this was the first time where I really felt like I was collaborating on something at this scale.
Russell Crowe might be a good acting coach, but what was it like having him as your horse-riding instructor?
That was wild. I had never ridden a horse before. There was a scene coming up where I had to gallop full cantor down the beach. I was very nervous about it. In between takes he came up to me and said, "Look, jump on the horse. I'm going to try to teach you how to do it." We rode up and down the beach, which was amazing because he didn't have to take the time to do that but he did.