Paulina Gaitan — Sin Nombre
By Kiko Martinez
San Antonio Current contributing writer
Originally from Viahermosa, Tabasco, Mexico, actress Paulina Gaitan has taken on some serious roles in both English and Spanish productions from Voces inocentes directed by Luis Mandoki to Trade starring Kevin Kline and Kate del Castillo.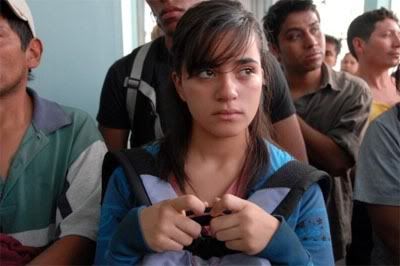 In her most recently work, Sin Nombre, Gaitan, 17, plays a young Honduran girl named Sayra, who attempts to travel the length of Mexico to the border on top of a train with her brother and estranged father. Sayra's plans change, however, when she meets Willy (Edgar Flores), AKA Casper, a troubled young man who is riding the rails to escape the gang he has turned his back on.
During an interview with the Current, Gaitan talked about her experience riding the train and how exactly she got first-time director Cary Fukunaga to cast her in the powerful lead role.
Sin Nombre is currently playing exclusively at Santikos Bijou Theatre at Crossroads Mall. For more on the film read Current contributing writer Brian Villalobos's interview with Fukunaga.
Did you feel like a veteran on the set since you had the most experience of everyone?
No, I think everyone supported each other mutually even though everyone had their different experiences.
Other than concentrating on your character, what other things were running through your mind when you rode the train?
One thing that crossed my mind was how dangerous it was to sit on top of the train. It's extremely dangerous. We were actually tied down to the train so we wouldn't fall off. Those were extremely difficult scenes.
Did you get to meet any of the real immigrants who ride the trains?
The majority of the immigrants were Salvadorians. I had an opportunity to listen to immigrants' conversations but I didn't ask any questions because I didn't want to be disrespectful.
Did anything exciting or dangerous happen during production?
We had a lot of experiences on top of the train. The `electric` cables would pass across our bodies. One day we were up on the train riding on the back and people started screaming, "the branches, the branches!" People had to start bending down because we were getting hit by all the branches.
I read that `director` Cary `Fukunaga` wasn't sure about casting you for the role of Sayra. How did you manage to talk him into it?
It was very difficult. Really, the problem was only in the accent and nothing else. (Fukunaga wanted a Honduran actress to play the part at first). So, I asked him to lend me a CD so I could study the accent. Then I asked him for another audition and he gave it to me. I did the accent and he gave me the role.
What is the biggest difference between American and Mexican film productions?
The money! (Laughs) No, I think it's the same. It's important to feel like you have a family on the set. In both Mexican and American productions, it feels that way.
Many of the films you've done have serious themes. Are you naturally attracted to movies with messages?
I do like them a lot. It's like a goal of mine even though some of these stories are very sad. But I wouldn't mind doing other roles.
Is Sin Nombre the proudest you've been of your work as an actress?
Well, in the theater I've done really great things but I feel that all the movies have their own qualities. I don't think I'd be able to select any of them as my best work. All of them are different.