By Kiko Martinez
San Antonio Current contributing writer
Carlos Cuarón - Rudo y Cursi
Five years passed after screenwriter Carlos Cuarón was nominated for an Academy Award for his 2001 film Y tu mama tambien before he began writing his next feature script. The rough idea he had for his movie was about "a soccer player from a humble background." When he shared some of his thoughts with actors Gael Garcia Bernal and Diego Luna, he didn't expect their response: they both wanted the part.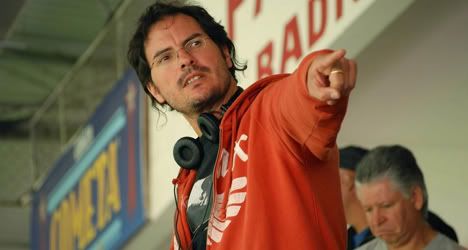 Instead of making a choice between the actors, Carlos, who is the younger brother of Y tu mama tambien director Alfonso Cuarón, decided to rework his story and write it about two brothers. The film, Rudo y Cursi, tells the story of Tato (Bernal) and Beto (Diego), siblings who are recruited onto rival professional soccer teams.
During an interview with me, Cuarón, 42, who along with penning Rudo y Cursi makes his directorial feature debut, talked about his personal passion for soccer and whether or not he used his own relationship with his brother to create his main characters.
Did you use your relationship with Alfonso in any part of the script?
The only thing that is sort of the same between Rudo and Cursi and Alfonso and me is that we are all sometimes a bunch of dumbasses. The story is more about my observation of other sibling relationships.
Was there ever any sibling rivalry between you and Alfonso since you both work in the same industry?
I guess there was some sibling rivalry, but the way we work together is more of a partnership. I would write scripts with him of projects that I liked and I would say no to the ones I didn't like. I didn't think it was necessary to have to show off my relationship with my brother in this film.
Because of the success of Y tu mama tambien back in 2001 do you find it easier or more challenging to write today? Is there more or less pressure?
Well, this script was really difficult for me. It really took a lot of time. I wrote and rewrote for two whole years before I felt it was ready to shoot. This project is different from Y tu mama tambien because I was finding the story and the characters as I was writing. In other projects, I know more about the story and the characters before I start writing.
Were you already familiar with the world of soccer before you started to write?
I am a soccer freak. I love soccer, so I knew a lot. But I also did research. I have a few friends that used to play soccer professionally. I would go have lunch with them and talk. I would talk to players and referees. I also went to some soccer training and went to games and to dressing rooms during halftime to see how everything operated.
Did you ever worry about choosing to highlight soccer in this film? I mean, the sport isn't very popular in the U.S.
Yeah, I was very worried about this, but not only in the states. The truth is all soccer movies that have come out have all flopped. They have been box-office disasters historically. I was worried about that but at the same time I felt like I wasn't making a sporting movie or a soccer movie. I wanted to make a movie about brotherhood. That is the reason why we don't see much soccer. Much of it is off camera. There is a reason I didn't show much of the game. At the end of the day the only thing I really wanted to dramatize on the field was the only thing you can really dramatize in soccer, which is the penalty kick. It's like a duel; two men facing each other and in front of them is destiny or death.
Is there anything else in the sports world you would say is the equivalent to the drama of the penalty kick?
I think it's exciting when a pitcher is pitching to a batter with two outs, two strikes, and three balls with the game tied and the bases loaded. I think every sport has their own "penalty kick."
But not every sport has the type of fans that come out to soccer games. We see a bit of that in the film where a fan can be your best friend if you're playing well and wants to kill you if you are not. Does it ever surprise you how intense and sometimes dangerous these fans can become?
Yeah, I'm really surprised every time something like that happens especially in Mexico. In Mexico soccer is still a family sport so you go to the stadium with your family. Families can't go to the games anymore in Brazil or Argentina or other parts of South America because the fans are really violent. I don't understand it. I think people should understand that soccer is just a game.
Have you ever experienced what Gael's character Tato is going through in the film where he is passionate about something, but just really isn't good at it despite his sincere efforts?
Well, I hope not with directing. (Laughs). I have a passion for soccer, but I'm an average player. I know I'm never going to play professionally. I knew that all my life. I never even thought of it when I was a kid.
Do you think someone can truly be happy doing something they're good at but don't necessarily like?
No, I don't think so. I do what I like to do. I understand Tato in that sense. He's good at soccer but he wants to sing even though he's a lousy singer. I think you have to be very intelligent and go with your passion but at the same time have enough self-criticism to see your talent is in another place.
Why did you choose Cheap Trick's song "I Want You to Want Me" to be the film's theme song and why did you decide to translate it into Spanish?
One day I was driving my kid to school and I was listening to this CD and suddenly the song started to play. I started to sing along with it, but I sang it in Spanish. It's very stupid and I felt stupid but I discovered that was the song the character needed. Someone that sings, "I want you to want me," needs attention and has a problem. I knew for the music video I wanted it to be something between a homage and a spoof of the Norteño videos we have in Mexico. To me it was a very basic concept. I hired a choreographer. We shot it against a green screen. People kept asking me what I was going to do with the green screen. I told them I wanted it for kitschy backgrounds.
You touch on the idea of celebrity in the film when Tato becomes famous and starts doing things he wouldn't normally do. Are there any differences between the idea of celebrity in Mexico and the U.S.?
I think it's the same, not only in Mexico and the U.S. but worldwide. You are a reporter and I am a filmmaker so if we meet a star it's normal to us. But normal people get star-struck. I've experienced that with Diego and Gael everywhere both in Mexico, the states, in Spain, in South America. I've also experienced it with other actors in L.A. like Clive Owen.
What did it mean to you to get your brother and directors Alejandro González Iñárritu (Babel) and Guillermo del Toro (Pan's Labyrinth) to step in as producers for your first feature film?
To me it was a privilege to have them produce my movie. What was great is they produced this movie the way they would want to be produce. They gave me complete creative freedom and weren't demanding. They very rarely went to the set. Alejandro went one day. Guillermo never went because he was shooting Hellboy 2. Our communication was mostly through internet and phone calls. These guys are three of the best filmmakers in the world so all of their feedback was always appreciated.