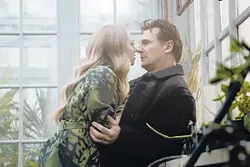 Amanda Seyfried is a prostitute hired to seduce Liam Neeson in Chloe
Chloe
Director:
Atom Egoyan
Screenwriter:
Atom Egoyan
Cast:
Julianne Moore, Liam Neeson, Amanda Seyfried, Max Thieriot
Release Date:
2010-03-24
Rated:
R
Genre:
Film
Chloe may bleed dry Canadian director Atom Egoyan's well of arty, intelligent, dramatic highwire acts. Earlier works, such as 1984's Next of Kin, 1987's Family Viewing, and 1991's The Adjuster, laid the groundwork for Egoyan's nuanced investigations of emotional masochism, where family dysfunction gets wrapped around sexual tension and voyeuristically surveilled. By the time Egoyan hit his art-house stride with 1994's Exotica and especially 1997's The Sweet Hereafter and 1999's Felicia's Journey, he'd become an exquisite explorer of the most fragile parts of the post-traumatic human psyche. Since, though, he's dabbled in oblique political statements (2002's Ararat and 2008's Adoration), and made a stab at mainstream mystery in the Joe Eszterhas-y Where the Truth Lies. Now along comes Chloe, whose first two thirds offer a brief glimpse of Egoyan's supple orchestration of a psychological ménage à trois, but by the end nosedives into a boilerplate Shannon Tweed erotic thriller.
Catherine Stewart (Moore) is a successful Toronto gynecologist who suspects her music-professor husband David (Neeson) is cheating on her after he misses a flight back home and spoils the surprise birthday party she planned. Little observations only amplify her paranoia: a mysterious text message from a student; the way he hides his IM conversation when she walks into his office; his constant flirtations with waitresses. So when Catherine realizes Chloe (Seyfried), a young woman she casually met in a posh hotel's ladies room, is a woman for hire, Catherine decides to test her suspicions. She pays Chloe first to meet up with her husband, just to see if he takes an interest in her, and Chloe delivers — perhaps too well. Soon, Catherine is meeting up with Chloe, and the young woman narrates the specifics of her assignations with David — making out and a hand job in a remote nook of the Allan Gardens, an at-first unsuccessful tryst at a hotel — that horrify, and possibly excite, the spurned wife.
Over and over again Moore has displayed her superb skill at subtly sculpting women who are trying not to come apart at the emotional seams, and here she does another excellent job with a successful careerist who can't quite figure out when she started feeling like a visitor in her own home. Not even her teenage son Michael (Thieriot) has any interest in talking with her: There's a moment when David and Catherine talk about Michael's sexual activity when she realizes the immensity of what she doesn't know about her own family, and Moore conveys that recognition in a stomach-punching wave of fear passing over her face.
Moore's confident performance, however, isn't enough to float the movie, which eventually sinks under the weight of pedestrian visual clichés and trite foreshadowing. The Stewarts live in an opulent split-level modern home outfitted with glass walls and tall windows, a leaden metaphor for a world in which almost everything is seen, but nothing is known. Worse, you can tell where the movie is heading way too early on—Chloe even begins with a Seyfried voice-over, in which the prostitute recasts herself as the consummate actress/storyteller, flaunting her verbal and physical abilities to be who- or whatever the paying client needs her to be. By the time Chloe is stalking Michael, and Catherine and David are having a screaming fight in their lifestyle-porn kitchen, Chloe has wandered far away from the intelligent thriller and straight into conventional Fatal Attraction sexism and its reactionary warnings about fucking the crazy chick.