San Antonio Current
Illustrator Eric Messinger's take on DC Comic's character, Lobo.
There was no doubt that, taking place this weekend and with its tremendous rise in just three years to one of the country's top events of its kind, the Alamo City Comic Con was going to be the focus of our cover at the
San Antonio Current
this week.
What we had a bit of a harder time deciding was what exactly to put on the cover, since the comic book world encompasses a rather large swath of the cultural landscape.
So we went with an expert to help point us in the right direction. San Antonio illustrator
Eric Messinger,
who's living his childhood dream of drawing for a living, used to work for Image Comics, which contracted with none other than the titans of the comic book world, DC Comics and Marvel.
There was little doubt in our minds that he'd come up with great stuff. And indeed, he did! We ended up liking both of his concepts enough to go with both for the cover. That's why you may have come across different covers of the
Current
today thinking something was wrong. Nope. Nothing wrong. Same issue, two covers.
One of the concepts is fairly self-explanatory – a geek superhero representing the growing masses of comic book aficionados amongst us, young and old. Alamo City Comic Con includes and encourages participants to channel their inner superheroes, which many take to heart through cosplay.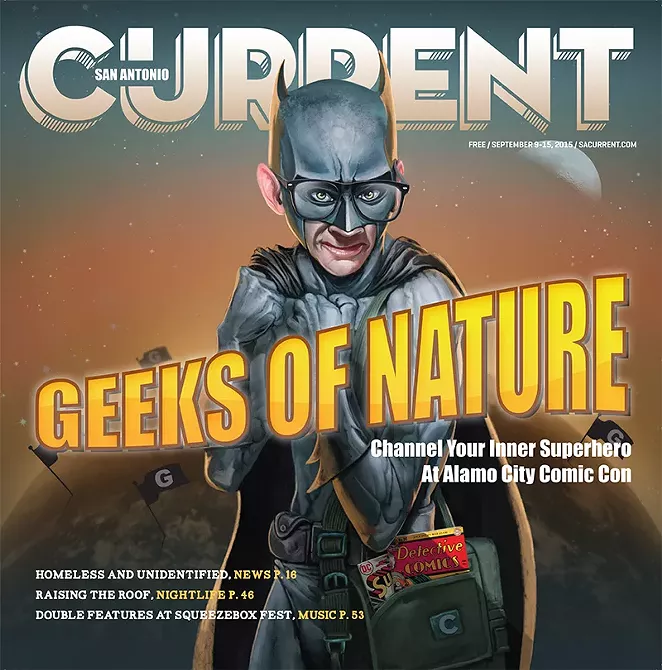 San Antonio Current
A Batman cosplayer graces the cover of one of our two Alamo City Comic Con issues this week designed by Eric Messinger.
The other cover is one hell of an arresting image. It's Eric's take on
DC Comics' Lobo character
, developed in the 1990s as a sarcastic take on Marvel's Wolverine. It enjoyed an ephemeral ride as a popular character before fading out of the spotlight. But it so happens to be the fave of DC's co-founder and comic superstar
Stan Lee.

So, there you have it. It's rare but actually not unprecedented for the Current to go with dual covers for the same issue. We hope you enjoy both as much as we have. Let us know what you think!