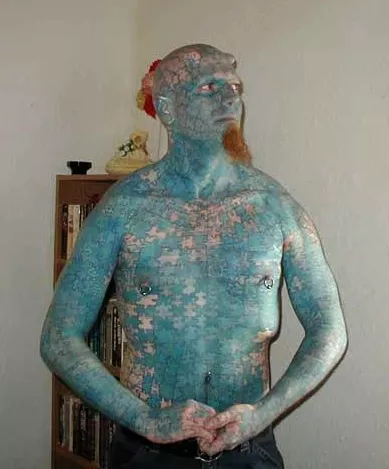 Via Wikimedia Commons/Briank58
The Enigma is one of the performers at this weekend's Slinging Ink Tattoo Expo.
The most colorful event of the weekend is happening at the Freeman Coliseum (3201 E Houston St.), which will host the 13th annual Slinging Ink Tattoo Expo from Friday through Sunday, March 4-6.
In addition to vendor booths and seminars, the expo includes tattoo contests in categories such as best full sleeve, most realistic, best cover up and best portrait. There will also be a full lineup of live music and human suspension acts, which is exactly what it sounds like.
Highlights of the expo will feature performances by
The Enigma
, better known as the guy who tattooed his body into a jigsaw puzzle, and question-and-answer sessions with
Lyle Tuttle
, the legendary tattoo artist and historian.
Tickets are available
here
. Single day and weekend tickets are available for $15 and $35 in advance, or $20 and $40 at the door. Kids under 10 get in free.
The expo is open from 2 to 10 p.m. on Friday, 10 a.m. to 10 p.m. on Saturday, and 12 p.m. to 8 p.m. on Sunday. Click
here
for a full schedule of events.