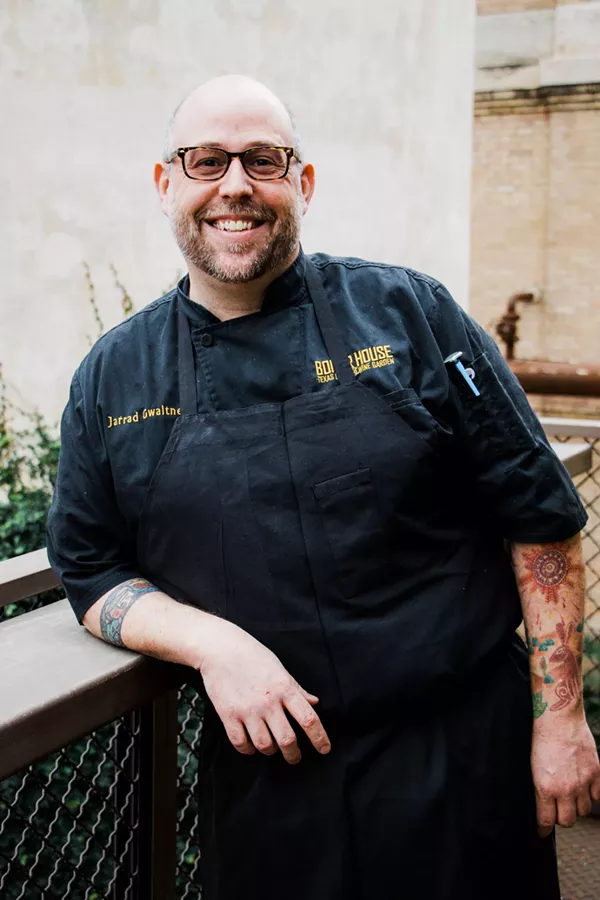 Josie Rees
Chef Jarrad Gwaltney of Boiler House
There's a new executive chef in town. Jarrad Gwaltney, a 25-year service industry pro has taken over the helm at
Boiler House Texas Grill & Wine Garden
, following the exit of long-time chef Jeff White. We sat down with Gwaltney to learn about his background, his palate and what he has in store for the restaurant in the coming months.
The Current: When did you start cooking?
Jarrad Gwaltney: I started in this business, actually, as a busboy at Restaurant Biga when I was 18 years old.
How old are you now?
I'm 45.
Biga when it was on Locust?
Yes. One night, chef Bruce had a fight with the pantry cook and the guy quit and walked out. So Bruce came out into the dining room and grabbed me and said "you, get back here." (laughs). He threw me on the pantry station and I fell in love. I worked with Bruce at old Biga for two years and then new Biga for five years.
What else have you been up to?
I was a chef de cuisine at a place called Eclipse Cafe for a while that has closed now. It was at Northwest Military and Huebner Road, it was a New American bistro-style diner. We did mostly everything on a special board every day and it was all from-scratch cooking. My chef was Jewish so we did a lot of kosher-inspired and traditional jewish foods. I've worked on a couple of food trucks, the Institute of Chili with Ana Fernandez and a truck called Primo Passo Pizzeria which was 100-percent from scratch except for the cured meats.
When did you start at Boiler House?
I started in May of 2012. It was six months or so after Jeff [White] had taken over. Jeff and I go way back we worked at Biga together. I've known him for about 20 years. He reached out on Facebook that he was looking for line cooks. I came in, and was hired as a line cook. I worked on the line for about six months and I was promoted to sous chef and about a year later I was promoted to executive sous chef.
How are your palates different? Should we expect a different direction any time soon?
Boiler House will always be rooted in Texas grilled and comfort foods, so I won't be changing the direction there. One difference that Jeff and I have is that he's very rooted in the Deep South, coastal Southern cuisines. My experience has more of a Texas and Mexican influence.
What kind of dishes have you served as specials?
I make a mean duck mole. It's a duck confit leg, smothered in a homemade black mole sauce. I like to braise things a lot. We're very similar that way. I like to do an espresso-braised pot roast that's really good. I take a whole brisket and braise it in a really strong coffee and use the jus to make a sauce that kind of has this coffee influence.
Are there any items you're trying to get on the menu now?
When it comes to writing a new menu, I'm not going to revamp the whole entire thing. But I'll start injecting a couple of dishes here and there seasonally. There will always be core Boiler House dishes like our Crackin' pork belly with pickled radish, our brussels sprouts with Spanish chorizo and grilled lemon. I will be looking at writing a new spring menu, but I don't have anything for you yet.
Any flavors you'll be playing with for that menu?
I'm really interested right now on this outside shell of the saffron flower. I'd really like to bring that saffron flavor into some of our dishes. I'd also like to interject some more wild game in our menu, I'm looking at rabbit and venison for sure.
What do you do when you're not at Boiler House?
I spend a lot of time working on my garden. I mostly grow ornamental, nothing edible usually. I do grow some herbs. I like to go to a lot of local art shows. I'm very fond of the Brick at Blue Star, I think it's a fun place to hang out. And I love going to the theatre with my mom, I'm a momma's boy. We have season tickets to The Majestic Broadway series every year, so I do that at least once a month with her.
Where do you eat when you're not at the restaurant?
My new favorite restaurant is Clementine. Oh my gosh, that place is amazing. When I went with my partner, we tried the just "feed me" where they send plates out at chef's discretion and they check on you every once in a while to see how full you are. I had some amazing dishes there. One of the standbys for me is the Liberty Bar, it's one of my favorite places to eat and La Fogata.
Where are you from originally?
I grew up all over the U.S. Both my parents were on and off in the military, first the Navy then the Army. I was born in Charleston, South Carolina and then my parents started moving around: St. Louis, Hawaii, Washington D.C.
Anything else folks should know?
Being a chef at this level has always been a goal of mine. I'm super proud that my roots are here in San Antonio when it comes to my culinary knowledge and skill. Working under chefs like Jeff White, Bruce Auden and Martin Stembera have really molded me and prepared me and really prepared me for this next level.
So many restaurants, so little time. Find out the latest San Antonio dining news with our Flavor Friday Newsletter.