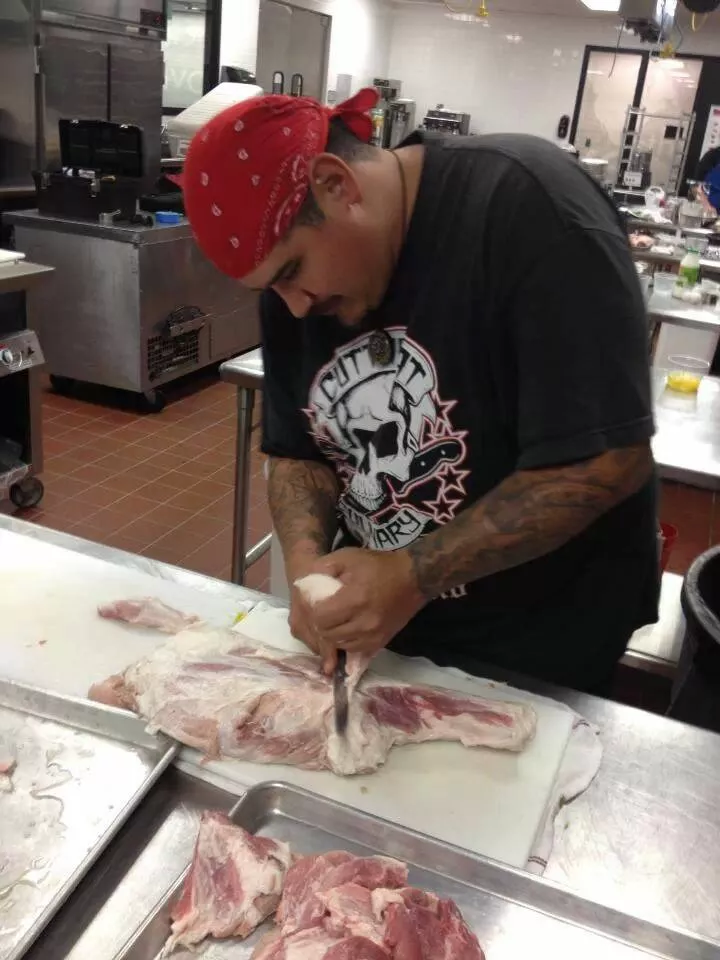 That's an awfully big knife. (Courtesy)
Cutthroat Culinary, a chefs group that aims to "create a network and brotherhood of Cooks and fans of all things Food, while giving back to the community" according to its mission, will host a dinner on October 19 at 6 p.m. at the Art Institute of San Antonio (10000 IH-10 West, Suite 200).
The group is made up of classically trained cooks including president Dominic Ramos (owner of Gourmet on the Fly food truck), treasurer Rafael Gonzalez Jr. (who currently works at Tre Trattoria Downtown), media director Steven Rivera (part-time caterer) and sergeant at arms Tatu Von Muenster (who currently works at the Grand Hyatt). They previously hosted a six-course Brunch and Brews event at the Art Institute in September and an introductory sample dinner in late July.
October's dinner will include six courses and be limited to 31 guests (in honor of Halloween, duh). Cutthroat Culinary will use horror movies as inspiration for the dishes such as the "Creature from the Black Lagoon," "Texas Chainsaw Massacre," "The Birds," "Silence of the Lambs," "Nightmare on Elm Street" and "Friday the 13th" for a spooky menu that will include a seafood platter, bone marrow, poultry three ways, lamb, fava and Chianti and sweet breads.
Reserve your $40 seat at https://www.facebook.com/events/211152552388124/, payments can be received ahead of time or day of as long as a reservation has been made.