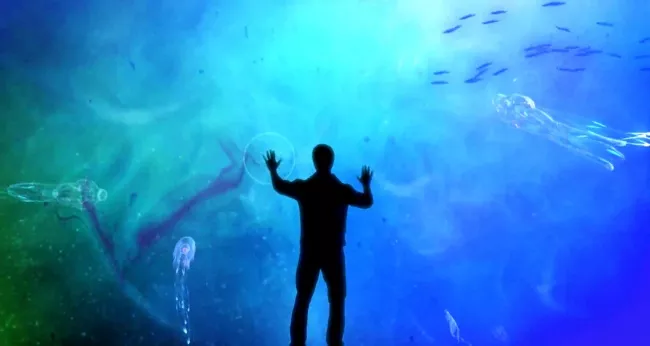 While I'm no Wii hater, I don't play many games on Nintendo's wiggle-waggle Gamecube because the motion control has proven itself, time and again, to be a classic case of a great idea with poor execution and limited technology. That and the fact that other game systems don't ply me with standard definition graphics on a high definition TV. (I call it Artifacting Hades.) But I digress, particularly because the Wii sells like cocaine-dusted funnel cake.
You may have heard that Sony and Microsoft are finally jumping on the mo-co boat, with the Playstation Move and the Kinect for the Xbox 360. What may be their essential game for the peripherals is Q? Entertainment's Child of Eden, to be released some time in 2011. Child is what director Tetsuya Mizuguchi calls a "synesthesia shooter" and it's hardly his first. Mizuguchi has produced similar marriages of sound and movement including Rez (PS2/Dreamcast/XBox), Space Channel 5 (Dreamcast), and Lumines (multi-platform). It's difficult to explain how Child plays, not because it's complicated, but because it's simple to a disservice. Watch the following video and you'll see what I mean:
Mizuguchi is demo-ing the game on the XB360's Kinect, which is a camera that sense's the player's movement and directs the game play accordingly. He targets shapes on the screen with his hands and shoots them. In turn, harmonious portions of music are played and digital purty-ness ensues. This is how the term synesthesia applies to Child of Eden. Mizuguchi, having mastered the controls, glides through the disorienting game play, bobbing his head to the beat and feeling an involuntary connection to the musical/visual show. In a basic sense, all video games are like this. You press "A" and Mario jumps on a Goomba. Then you giggle. But Child is stripping away physical and environmental constraints of game worlds and re-inserting a hyper-visceral presentation of light and sound. The preferred way to play Child will be with a ginormous television rigged to neighbor-waking speakers, with lights out and controlled by the Kinect and/or Playstation Move (not confirmed, only rumored).
Gamers will probably feel as if they're conducting their own digital light show with an electro-epic score. In incorporating the entire body,players' heartbeats will be more elevated and the potential for endorphin release will be even greater. Hell, we might even sweat from moving in lieu of sweating from social situations. That experience, while far from being a futuristic Disney movie starring Jeff Bridges, brings us a step closer to such a level of immersion. Take that, Wii Golf.
The main hang-up will be the accessibility of the full-body controls. 1Up's Matt Leone reported today that, while the game  handles excellently with a controller, the Kinect  is sluggish and requires too much caution. Luckily, there's still months of development left. I might even drop some weight before release, so I can upstage Mizuguchi's moves.