Though we've had an unusually cool and borderline nutso spring replete with one too many hailstorms and temperatures in the 50s, summer is coming. It'll get here soon enough and you'll wish you'd never stepped foot outdoors.
Stick with Chamoy City Limits, which won a Best of San Antonio this year for Best Raspa and makes us salivate with its Kool-Aid pickles, housemade syrups and sky-high creations. You can find them at Lions Field (2809 Broadway) on weekends, but if you've got a hankering for cool treats (nearly) 24/7, I've rounded up a few other spots around town to help keep you cool when we reach 100 degrees in the next few months.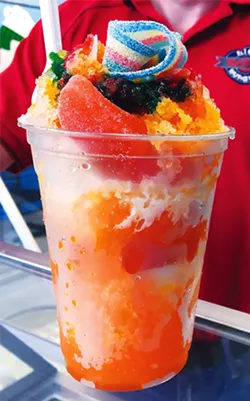 Big Bob's Shaved Ice
447 W. Hildebrand Ave., (210) 734-2627
Bob Riddle's not content with making beloved burgers. These days, the chef and owner of Big Bob's Burgers is trying his hands at shaved ice. With the help of Steve McGarity, whose father owns Steve's Sno-Cones off Pleasanton Road, Riddle is bringing shaved ice and cool desserts back to the spot once occupied by Frozen Fridays. A facelift to the space, a quick new paint job and the addition of caricatures by artist Jeff Hull over the last few months, Big Bob's Burgers opens up to Big Bob's Shaved Ice where he offers chopped pickles, fruit cups, pickle popsicles and a slew of frozen concoctions. Prices range from $2.99 to $5.95 and there are more than 20 flavored syrups to choose from. Two highlights on the board include the Banana Bomb with banana shaved ice and Blue Bell vanilla ice cream topped with Nilla wafers and the Dreamsicle, with orange shaved ice, Blue Bell vanilla ice cream, candy orange slices, red and green chamoy and gummy belt ribbons.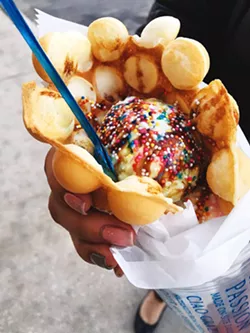 Paciugo San Antonio
999 E. Basse Road, Suite 197, (210) 832-8820
If Leslie Knope were a real person, she'd want to get in on this new snack from Paciugo. Owner Mo Shideed teased out his latest on Instagram and I couldn't get into the shop any quicker. Shideed and staff make Hong Kong waffles using a batter loaded with vanilla and offers it as a variation to the now-boring waffle cone (total snoozefest, amirite?). Choose one scoop or two and get creative with the toppings, as the extra crevices help act as reservoirs of sweetness. And the shop carries at least a half-dozen dairy-free treats for all my lactose-intolerant comrades.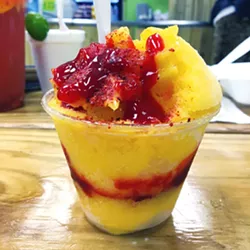 Piñas Locas
2413 Thousand Oaks Drive • (210) 378-9958
Thousand Oaks is blessed with a raspa joint worthy of all our praise. Tucked away in a nondescript shopping center, Piñas Locas will celebrate its third anniversary this July. "Where've you been?" was what one employee cheekily answered after I confessed I'd never stopped by. Learn from my mistakes and get there ASAP. Aside from the wonderful mishmash of Mexican candy (Mazapan was a highlight) to choose from, Piñas Locas offers "volcano" snow cones available with sweet cream or chamoy "magma," mangonadas available in junior sizes that you can actually eat and not feel bad about throwing away half your medium-sized cup, banana splits and aguas frescas. Stop in for the namesake Piñas Locas — pineapple halves filled with fruit and topped with various degrees of chamoy, Tajin, Greek yogurt (for the health-conscious) or Reddi Whip and Hershey's chocolate syrup. Yum.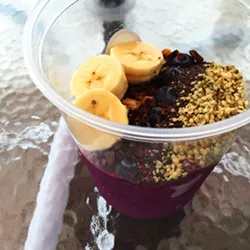 Rise Up
2202 Broadway • (210) 268-8009
Lin-Manuel Miranda didn't waste his shot and instead chose to write a ridiculously popular musical known as Hamilton. If your frozen repertoire needs a boost, visit Rise Up (only musical geeks will get this reference) on the Broadway News parking lot. Opened just over a month ago, the food truck is raw, vegan and flat-out delicious. If your body can only take so much chamoy, the truck offers an assortment of cold-pressed juices, fruit smoothies, coffee smoothies and perhaps most Insta-worthy, a collection of acai and pitaya (dragonfruit) bowls. They won't come cheap — $8.50-$9.50 — but they are chock-full of fresh veggies and fruits and topped with amazing textures. The colorful Pitaya Breakfast with pitaya, blueberries, banana, almond butter and almond milk comes topped with granola, banana and cacao nibs along with a helping of Happy Hemp seeds.