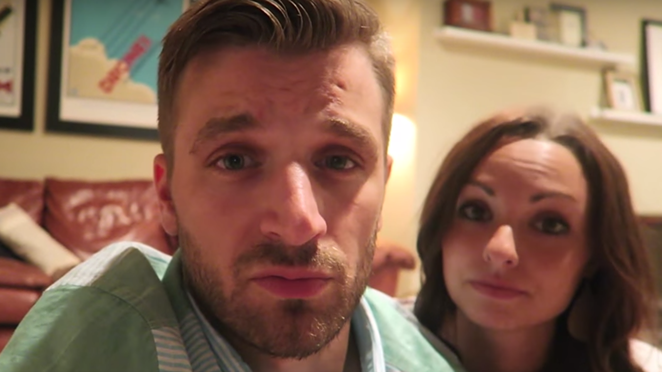 Sam And Nia
He's forgiven.
The great thing about modern Christianity is you only need ask for your Savior's forgiveness in order to be fully absolved of sin. Even if you're a vlogger who faked a pregnancy and miscarriage in order to achieve viral fame — and the income that comes with it — while sharing the word of the Lord.
Sam Rader and his wife, Nia, are YouTube vloggers who share daily videos that tout their Christian values of fidelity and family. The couple became a viral sensation earlier this month when he "surprised" his wife with news of her pregnancy and posted the video to YouTube, only to announce Nia miscarried three days later. Both the pregnancy and miscarriage were staged in a quest for viral fame.
On Thursday, the
Daily Mail
revealed Sam was
one of the 32 million users
who had their personal information exposed when hackers published 10 gigabytes of data stolen from Ashley Madison, a site to find extramarital affairs.
In the couple's latest video, Rader admits to opening an account in 2013. User data indicates he continued to pay through November 2013. The couple did not start posting to YouTube until the next year, but the time Rader was an Ashley Madison user coincides with the couple's fourth anniversary and the birth of their second child.
If you are concerned his online habits don't gel with his public persona as a faithful, loving husband, don't worry about it. God forgave him ages ago — and so did Nia — for what he describes as "fleshly desires."
Here's what he had to say:
Hey guys. As you may have seen, my name has been associated with an Ashley Madison account, a website made for spouses who want to have an affair. I'm here to clarify some of this with you guys, 'cause I owe it to you.

I did make the account. I made the account two years ago. This is an issue that is in our past. This is before I got onto YouTube. I brought this to my church at the time, when I first started at the church that I'm at now; this has been brought to my discipleship partner. This was brought to my wife's attention. She has forgiven me for this mistake that I made and opening the account. I've sought forgiveness to God, and he's forgiven me. So I've been completely cleansed of this sin, and also, I need to be clear that I've never met with a single person face-to-face through that website, and that I never had an affair with anybody, ever, while I've been married with Nia. The account was opened out of pure fleshly desires and just sinful curiosity.

Some of you are questioning my faith and, um, me being a Christian and doing this. I guess what some people don't understand is that we're all broken — even Christians. We come to God as broken people, and he sat upon the cross to save us from those sins. And because this is in our past, and this has already been completely resolved within my family and within my church, we won't be saying any more on this matter. I wont be talking to any media outlets. The only place you'll hear of this out — of our mouth — is here on this video. The only time. You know, this is why we need a savior. We're sinful by nature, and we do stupid things like this. And this is what the atonements all about: forgiveness and second chances.
Nia reaffirms she has long forgiven Sam. That's really sweet. Unfaithful desires, whether they are acted upon or not, are difficult to move past in any relationship.
But, perhaps no one would know of their family marital challenges, and Sam online habits, were they not so hell bent on achieving fame for Jesus. The fake pregnancy and miscarriage videos were posted in August, but the hack dominated headlines in July and were so ubiquitous that they were nearly impossible to ignore. The Raders should've given pause to their faking seeking. It's likely both know Sam's user information and his fleshly desires could possibly be exposed after they chose to stage a pregnancy and miscarriage.
Perhaps they weren't aware many online viewers aren't as forgiving as God.