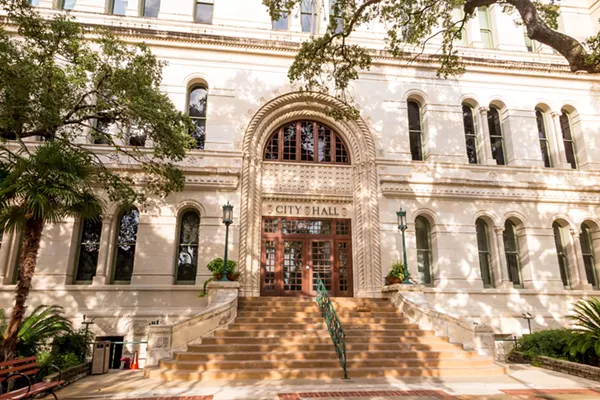 Shutterstock
San Antonio City Hall
After hours of back-and-forth commentary across the San Antonio City Council's dais, council members have voted to adopt its newest and largest budget for the city's 2018 fiscal year.
The $2.7 budget's biggest winners: Street maintenance, transportation, law enforcement, and people living in lower-income neighborhoods.
In the months of negotiation leading up to its passage, members of city council and Mayor Ron Nirenberg touted the $2.7 billion budget as a tool to address the
sobering inequities seen across San Antonio
. Instead of allotting the same blanket amount of city funds to each of the city's ten districts, this budget has divvied up dollars by need. For instance, neighborhoods like District 8, which received a hefty amount of bond money to fix its streets, won't get the same amount of budget funds for sidewalk repair as District 2 and 3, in the south east, sidewalk-needing corner of the city.
"When it comes to address challenges of a diverse community, this is what it looks like," said Mayor Nirenberg during the Thursday session. "This is the first budget where we can tell people across the city, 'you are being heard.'"
The city increased the street maintenance budget from $64 million to $99 million, with and additional $5 million for sidewalks. Nearly $2 million will go towards general "neighborhood improvements," and $10 million will go toward VIA Metropolitan Transit (spread out over a two-year term) to improve bus frequency on underserved bus routes. The council acknowledged many of the approved items will take years, if not decades, to produce the kind of society-shifting results they're wanting.
"We're talking chess, not checkers," Councilman Cruz Shaw said. "We're talking about decades of disenfranchised individuals being lifted up. Moving our city forward."
Councilwoman Rebecca Viagran called it a "down payment."
It's the first time the city's prioritized "equity" in its finances, and the budget was met with expected distrust from some council members representing more conservative pockets of the city.
At Thursday's meeting, Councilman Greg Brockhouse said he still didn't understand the so-called "equity lens" council members have said they've used to produce a balanced budget.
As he's said in past meetings, Brockhouse suggested it was more a political move than a tool to get struggling San Antonio neighborhoods on par with wealthier, resource-heavy parts of town. He's argued that his District 6, straddling north west and west San Antonio, has been been unfairly underfunded in this budget cycle.
"I will stand for District 6 and those residents across San Antonio that believe back to basics core services come first. If I go down in flames, I go down in flames," he told fellow members of council, after proposing to use nearly $800,000 of budget dollars to turn an empty Blockbuster store in his district into a community center. The amendment failed.
Brockhouse and Councilman Clayton Perry also unsuccessfully pushed for a minimal tax rate reduction, which the city estimated would save households around $8 a year. The two more conservative members of city council did applaud the final budget for adding salaries for 42 new police officers and 43 new firefighters and EMS personnel.
Despite the lingering disappointment from some members, Nirenberg said he won't let partisan politics or petty finger-pointing from the public rattle his council.
"It's easy to lose faith that local government isn't working for you. But don't let anyone tell you that [council members] don't have the right intentions," he said to the chamber's audience. "We are here for you. This is your house. You have a seat at the table. That's the way it ought to be."