To guide us around South San Antonio, from Cesar Chavez on down, we reached out to Andy and Yvette Benavides, the founders of
SMART
and proprietors of the fun and funky 1906 building, hub of the emerging
South Flores Arts District
. We also heard from Nina Hassele, another arts maven well known for her many years spearheading
Contemporary Art Month
. And for good measure, we heard from our own 
Current 
contributor and copy editor Miriam Sitz.
First up: Andy and Yvette Benavides
Occupation:
 Yvette: Business Owner, Non-profit director, Creative; Andy: Artist/Entrepreneur
Neighborhood:
South Flores Arts District
Years lived there:
 Yvette: 8; Andy: 18
Why did you choose that neighborhood?:
Yvette: I found love here, and it's where I am meant to be. Andy: Alberto Mijangos and I decided we would bring the arts into a neighborhood with little or no exposure to the arts. It so happened that it would be in a district where I completed my adolescent schooling. It became our mission to compliment the neighborhood with our passion for art and celebrate the culture in our neighborhood. I could have gone anywhere in the world as an artist, but ultimately chose the place where my opportunities were created. This was my way of giving back to my city. You can travel anywhere, but home is where your heart is, in this case here on South Flores with my wife Yvette, son Agusto and the extended family that we call our community.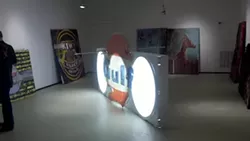 Say your close friend or family was visiting your neighborhood for the first time, where would you be sure to take them and why?
Yvette: Maria's Café for sure. This little café gives you a complete sense of the community. It envelops the support, the humor, the intimacy of the neighborhood. Maria's welcomes everyone and jumps in to support whatever their effort may be as best she can—just like this community. If someone has an idea or a project they are passionate about, people will help to make it happen. It's unlike any other place I have ever lived. It sets an example for how community make things happen. How community is powerful. Andy: Without a doubt Maria's Café. Why? Because it's home away from home. A place where community comes together for conversation, laughs, and of course great food made with love. The Beza Family is always engaged by community and goes above and beyond to embrace our families. It's become the place artists hangout and generations are nurtured. Maria has watched generations of kids grow up around her kitchen and with a smile on her face, continues to welcome the new faces. Maria's is the place where people come together, she's the "Real Deal," ha, a running joke in her restaurant.
[Read more about Maria's.]
Up next, Nina Hassele >>>>
Name:
Nina Hassele
Occupation:
Operations Manager at a woman-
owned scaffolding company & Director/Co-chair 
of
Contemporary Art Month
Neighborhood:
Southtown
Years lived there:
7
Why did you choose that neighborhood?
We migrated south from our old neighborhood just up Broadway. The decision was primarily based on the accessibility to everything via the highway and streets as well as the safety and comfort for my then seven-year-old, who can be seen regularly walking or riding his bike around Lavaca, King William, Lone Star District and Southtown. Living south of Downtown truly allows me the comfort of neighborhood living with similarities to the Williamsburg, Brooklyn neighborhood I grew up in (not the Williamsburg of today). --where you know your neighbors, they pull your trash cans back after pickup. You can walk next door and borrow olive oil; they call to let you know they've seen your kiddo at First Friday and he's OK. I can go from Bliss to the Monterey to FEAST to Liberty Bar and enjoy yummy eats, drinks and great service. Ahhh, the list is long.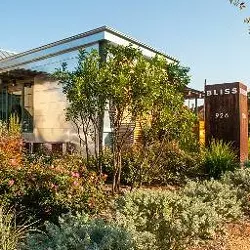 Say your close friend or family was visiting your neighborhood for the first time, where would you be sure to take them and why?
If, say, my Uncle Christopher, Titi Cindy and two daughters came to visit, I would be sure to take them to the Friendly Spot, The Monterey, Liberty Bar and Cascabels for lunch. If time allowed we'd hit up the Filling Station.
Follow Miriam Sitz around her Roosevelt Park-area haunts >>>>
Name:
Miriam Sitz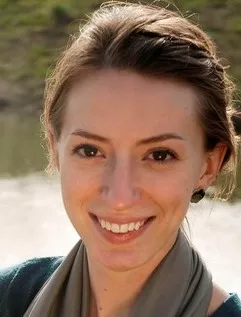 Occupation:
Freelance writer
Neighborhood:
Roosevelt Park
Years lived there:
3.5
Why did you choose that neighborhood?:
I moved into this neighborhood after college with friends because the real estate was cheap and the location close to lots of things we enjoy: the food and drink options in Southtown, the burgeoning South Flores arts scene and the Mission Reach of the river. In Roosevelt Park, we found charming old houses with backyards, neighbors who look out for one other—and just enough noisy trains and stray animals to keep rents reasonable, for now.
Say your close friend or family was visiting your neighborhood for the first time, where would you be sure to take them and why?
I always take family and friends, canine and human alike, for a walk along the river. We stroll through Roosevelt Park and across the footbridge adorned by Mark Schlesinger's public art piece
Up on the On
, past the spooky old Lone Star brewery and abandoned silos, and then continue up the path to Blue Star Arts Complex. It's a lovely walk filled with families, runners, pets, cyclists and B-cyclers that showcases the area's natural beauty, remnants of the past and newest developments.