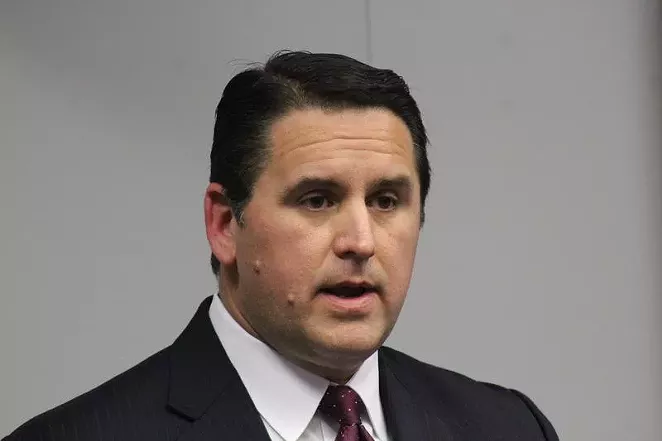 Erik Walsh, the lone finalist to become San Antonio's next city manager, played to a home crowd Wednesday night during his first public forum.
The hour-long Q&A at UTSA's downtown campus frequently turned into a lesson on how a council-manager city government works. While the moderator, Greater Good founder Maria Luisa Cesar, asked Walsh about controversies such as the city's long-running contract feud with the fire union, the talk stayed in comfortable realms and there was no apparent antagonism from the crowd of a few dozen people.
The only visible signs of protest were flyers circulated at the event's front door asking the city for more financial transparency.
Council will hold a final vote whether to approve Walsh on January 31. He seeks to replace Sheryl Sculley, the city's longest-serving city manager, who announced her retirement after the public approved a referendum limiting future city managers' salaries and tenures.
During the forum, Walsh frequently pointed out people in the crowd, calling them by name and saying "hello." The presence of employees, family members and friends underscored the story he was there to tell — that he's emphatically San Antonian.
In opening remarks, Walsh stressed the opportunity he has to manage the city where he grew up, and he even mentioned his favorite breakfast taco (migas). Those deep local roots give Walsh a distinction from his predecessor, who was hired from outside the city and eventually became
lightning rod for criticism
.
Even so, Walsh made it clear he doesn't expect to deviate far from Sculley's path.
When Cesar asked what immediate changes he would like to make, Walsh replied with, "Right off the bat, nothing."
Stay on top of San Antonio news and views. Sign up for our Weekly Headlines Newsletter.