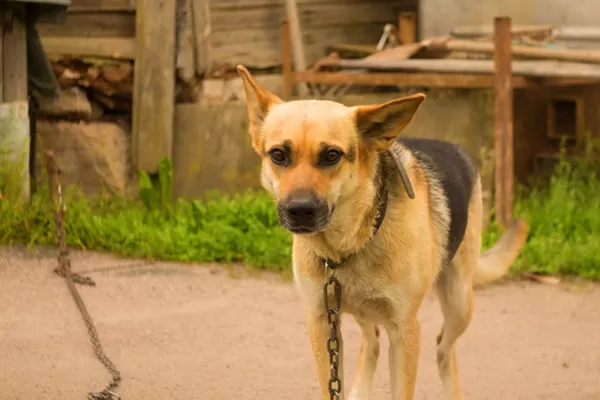 San Antonio is continuing to crack down on dog tethering laws across the city — laws that the state legislature was unable to pass earlier this year.
On Thursday, San Antonio City Council voted to completely ban the use of chains in restraining or tying up a dog. There are no exceptions based on weight, length, or material, according to Shannon Sims, assistant director of the city's Animal Care Services.
Sims said the city prioritized a crackdown on chains for a few reasons: heavy tow chains can tug on dog's necks, chains can tangle easily, and they're especially prone to carrying diseases (it's apparently common for feces to get stuck in chainlink).
The update comes with no changes to other tethering laws, however. Dogs are still allowed to be tied up in a backyard using regular rope or cord at least ten feet in length, provided the pup has adequate shelter and isn't "in heat."
Sims said the city was initially considering a total ban on all dog tethering.
"But we realized that its' the primary form of restraint for dogs in predominantly poorer neighborhoods, where not everyone has a fence," he said. If the city made a sweeping ban, Sims said, they number of strays in these neighborhoods could skyrocket.
"We decided we weren't there yet as a city," he said.
ACS will give dog owners six months to adapt to the changes before handing out citations.
This city law mimics a
bill proposed by Houston State Rep. Sarah Davis
in the most recent legislative session, one that would have prohibiting tethering dogs with a chair or with "a restraint that has weights or is shorter than five times the length of the dog." The bill never made it out of the Capitol.
"We were able to execute what the state legislature was going for," Sims said. "It's hopefully the first of more protections for dogs down the road."