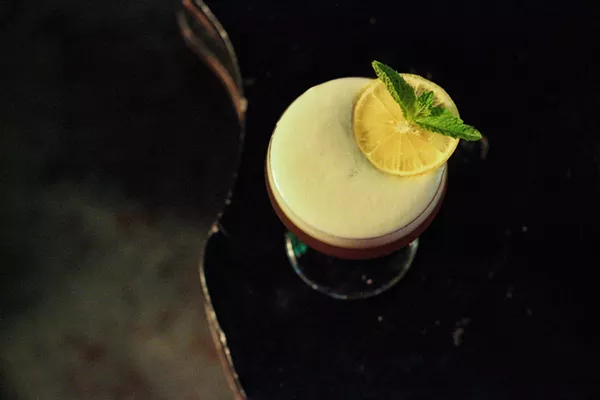 The Fernet Flip, one of the signature $7.50 Cocktails
Cloak & Dagger Social Club, just down the ways from UTSA on the northside of San Antonio, is now well into its second year of business. If seen from afar (read: online), one might think of it as your typical college bar, complete with cold beer, shot specials, and large TVs, but walking tells another story that left this writer pleasantly taken aback with how the bar will defy this assumption.

The Cloak & Dagger Lounge Area
Unlike most sports bars, Cloak & Dagger is equipped with beautifully upholstered chairs and couches that are accompanied by intimate lighting and board games. Opposite from this sleek ambiance, is a bar that stretches the length of the establishment and is littered with large TVs and variety of bottles. One might say that the Northside bar is doing too much, that they need to choose whether they want to be a sports bar, or a speakeasy. One might argue that it's a watering hole for people of all kinds to come together and grab a drink, where everyone will find something they like for a decent price. The identity crisis may be what contributes to the diverse clientele. Here you can find a mix of old and young, both gathering around the bar enjoying affordable drinks.
The difference lies not only in the age of the patrons, but in their drinking preferences as well. It's a great stop for cocktail aficionados and beer lovers alike. During Monday Night Football, and all Cowboys games, C&D offers $1 Miller Lite on draft, which is a great deal for those wanting to catch the game on a budget. If Miller isn't your thing have no fear, ordering a cocktail like an Old Fashioned, a mojito, or the C&D signature Fernet Flip (Fernet, Kings ginger liqueur, egg white, lemon, simple), will only set you back by $7.50, pretty cheap for a craft cocktail outside of happy hour. Which is good, since there is a bit of confusion about when the specials end. To play on the safe side, plan on happy hour being from 3 to 7 p.m. and enjoying cheap beer, $3 wells, and $5 cocktails. Another time to hit up the bar is on Sunday Funday, when they have a bloody mary bar and free barbecue.
8338 N. Loop 1604, (210) 223-1609.
<!—————StartFragment—————>Erin Winch writes about boozin' in the Alamo City on her blog Drinking In SA. Follow her on Instagram at @drinking.in.sa for more.