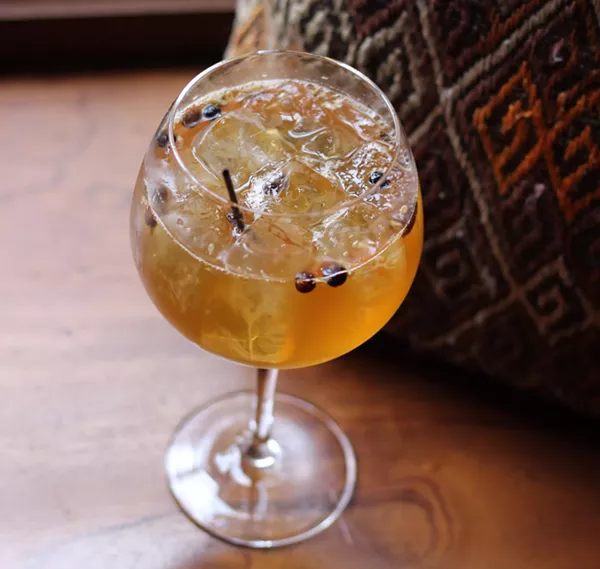 Since the beginning of the summer the Historic Pearl Brewery has been the host to the Olé, a celebration of the Tricentennial in San Antonio that showcases the art, history, culture and food from Spain. This means Tapas Tuesday, Spanish art shows, cooking demos using conservas and olive oil, and Spanish Sippin' Gin and Tonic Thursdays. This event, which enlists a slew of participating bars in the Pearl area, means gin fans can order expertly made gin and tonics to explore the Spanish favorite, first made by the army of the British East India Company in India.
Cured and Sternewirth inside Hotel Emma have made their own variations of the cocktail. If you go to the Pearl on Thursday make sure to stop by the luxurious hotel bar and order the coffee-inspired G&T.
The drink was dreamed up by a bartender at Sternewirth who wanted to create a cocktail using the signature house coffee by Merit Roasting. The Emma's blend of coffee has a slight bitterness to it that resembles a tonic. The combination of the beans and the tonic mix well, complimenting each other and creating a new depth that most tonics do not have. The gin that is used in the cocktail is the Spanish Mahon gin, which employs botanicals including pine, lemon, sea salt, and results in a slightly nutty and earthy taste. The gin, with its savory, less fruit-forward notes, introduces a slight citrus earthiness to the drink made with roasted beans coffee beans. The cocktail is then garnished with juniper berries and coffee beans for a little show and aroma.
It's a balanced and tasty G&T — perfect for coffee drinkers who don't usually reach for gin. Like coffee, this G&T can be enjoyed throughout the day and can be ordered from the Sternewirth menu any day of the week. Olé ends September 15 so stop by before then.
Erin Winch writes about boozin' in the Alamo City on her blog Drinking In SA.

So many restaurants, so little time. Find out the latest San Antonio dining news with our Flavor Friday Newsletter.