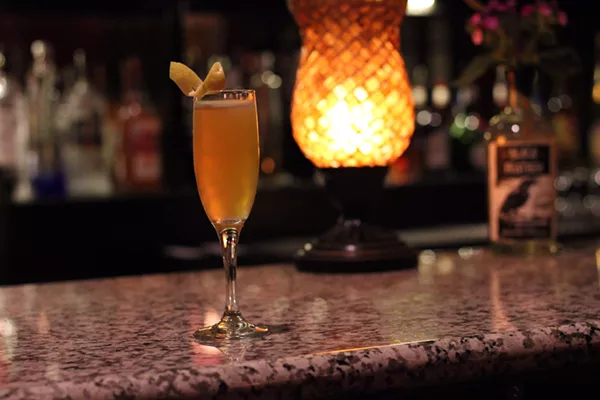 From the St. Patrick's day favorite, the Irish Car Bomb, to craft cocktails like the Barrel of Monkeys (Monkey Shoulder Scotch, Campari, Dry Curaçao, lemon and Karbach Radler), which was recently featured at the Girl Gang pop up in Austin on June 6, beer has has a place in cocktails. Bars all across San Antonio are starting to combine and finish off their craft cocktails with an IPA, pilsner or even stout beer. It's a great way to introduce strict beer drinkers, like a hops-obsessed friend, or your father, to the world of mixology.
This week's featured cocktail is the It Could Be Sweet from
Bar Du Mon Ami
. It's a balanced cocktail that uses Jeppson's Malort, peach liqueur, lemon juice, simple syrup, and is topped off with Lagunitas IPA. The best part about it? It's served in a Champagne flute, and adds a bit of whimsy and fun to the beer drink.
It's a well balanced drink (though it packs in the bitterness with Malört and the IPA). The bitterness that is present in Malört, a popular wormwood liqueur that serves as aperitif in Chicago, contrasts with the peach liqueur and the simple syrup. An IPA is the perfect topper as it makes the drink easy to sip on in the summer, and more approachable for those that are used to hops in beer.
The drink was created by Jonny Yumol, who manages Bar du Mon Ami. A long time fan of Malört, which has a large cult following among many in the industry, Yumol was challenged to "make a palatable Malört cocktail" and decided to use the peach and simple for a hint of sweetness while pairing the bitterness of Malört by topping the beverage off with beer. At first, all you can taste is the Lagunitas, then the peach and Malört come in at the end.
If you are looking for a new place to treat dad to this Father's Day, take him out to Mon Ami for the It Could Be Sweet.
Erin Winch writes about boozin' in the Alamo City on her blog Drinking In SA. Follow her on Instagram at @drinking.in.sa for more.