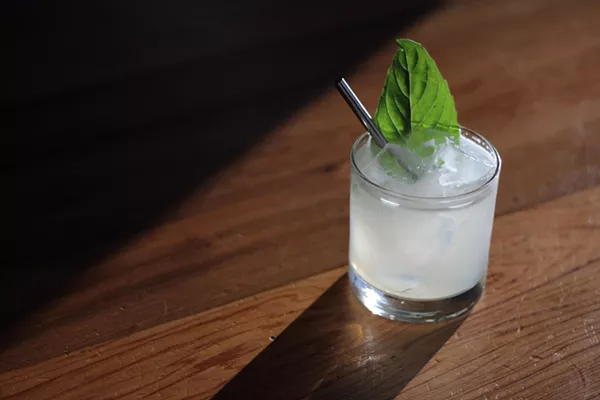 In South Texas, there's no better time to enjoy a drink outdoors than in early fall. One of the top spots to grab a patio libation is
Still Golden Social House.
The bar, which opened early this year to replace the beloved Stay Golden that was just a couple blocks away, is now one of many go-to spots around the Pearl area. Whether you are stopping in to grab a quick drink for happy hour, looking for a spot to drink and show off your dog, or simply trying to watch a game on the flat screens, Still Golden is versatile enough for any occasion. Also versatile is the Dr. Robert Ford cocktail.
The Dr. Robert Ford, named after Anthony Hopkins' character on HBO's
Westworld
, is available on Still Golden's regular menu, and was created by the bar manager Stephan Mendez. A slight variation on the gin basil smash (a traditional cocktail made with gin, lemon, simple syrup, and basil), Mendez's version updates the recipe by creating a basil syrup with a sous vide, which aids in creating a bright flavor and speeds up the prep process.
To kick it up one more notch, Mendez allows drinkers to "choose their own adventure," as he puts it, by letting them choose between three spirits. The traditional recipe calls for gin (Golden uses Waterloo). However, customers can sub the gin out for either Cachaça, a Brazilian spirit or Uruapan Charanda, a white rum and my personal favorite, which adds a nice balance to the drink. You can try one out today for $8, or you can try all three variations to see which spirit is your favorite.

Erin Winch writes about boozin' in the Alamo City on her blog Drinking In SA. Follow @drinking.in.SA on Instagram to keep up with the SA drink scene.
So many restaurants, so little time. Find out the latest San Antonio dining news with our Flavor Friday Newsletter.