Photo via Instagram / barriobarista
Barrio Barista
Barrio Barista // Part-community center, part-café and part-java emporium, tahis self-proclaimed coffee house is bringing San Antonio Coffee Roasters' beans to the West Side. Owned by father and son team Gilbert De Hoyos (Jr. and Sr.), the former meat market is a haven for poetry nights, healthful lunches by Ruben Jimenez and Mexican-American studies. Don't miss the horchata iced latte or the barbacoa grilled cheese sandwich. 3735 Culebra Road, (210) 519-5403, barriobarista.coffee.
Berry to Bean Coffee House // The Broadway corridor gained another coffeehouse with the opening of Berry to Bean, which packs in both caffeine and smoothies late into the evening. Stop in for latte art, vegan pastries or a fresh smoothie on your way to or from the Witte. 3900 Broadway, (210) 549-222, facebook.com/berrytobean.
Brown Coffee // Calling all coffee snobs: Walk into Brown Coffee Co. (either their 1800 Broadway location, outpost inside Methodist Stone Oak Hospital or their upcoming Southtown spot) and you will immediately understand that this place is serious about its beans. The minimalist design is sleek and clean, providing few distractions from the main point of focus. What's even more minimalistic than the décor is the actual coffee menu itself. Brown's knowledgeable baristas craft coffee and espresso beverages from their in-house roasted beans. Walk in a coffee novice and leave a neophyte connoisseur. Multiple locations, browncoffeeco.com.
Café Martinez // Hailing all the way from Argentina, this franchise location adds a chic comfortable space, full café menu and of course, coffee to the Medical Center area. Stop in to co-work, or for a first date. 7302 Louis Pasteur Drive, (210) 231-0095, cafemartinez.com.
Candlelight Coffee House // Looking for a little romance? Not ready for your perfect date night to come to an end? Pop into Candlelight with your honey for post-dinner espresso and pie. Located in an old house with soft lighting, plenty of comfy corners and mismatched, old furniture, Candlelight packs just enough quirky touches to make you feel right at home. 3011 N. Saint Mary's St., (210) 738-0099, candlelightsatx.com.
CommonWealth Coffee // Tucked right off Broadway, Commonwealth Coffee, and now found dotted throughout San Antonio's downtown. With King Louis and crooner standards on the stereo, a delightful shaded patio and iced coffee served in Mason jars, Commonwealth favors the cute without ever going overboard. France is an inspiration, with a pâtisserie and Francophile lunch menu. But fear not, they know they're in SA — they serve breakfast tacos until 11 a.m. Multiple locations, commonwealthcoffeehouse.com.
The Cracked Mug // For a charming and quaint coffee shop, visit The Cracked Mug in Helotes, which carries Brown Coffee Co. beans, and features a full menu of breakfast and lunch. 14743 Old Bandera Road, Suite 1, Helotes, (210) 635-0829, facebook.com/thecrackedmugcoffeehouse.
Cuppencake // Pay this place a visit for some great service and even better bean juice. Try the affogato with vanilla ice cream for a fantastic mixture that will wake you up and keep you cool on a hot Texas day. Don't forget to try a giant cookie or cinnamon roll from the bakery. 22211 W. I-10, Suite 1111, (210) 892-3010, cuppencake.com.
Don Martin's Coffee // Southtown gained another coffee shop with the opening of Don Martin's Coffee behind Bar America. Opened by the same team behind the San Anto-institution, Don Martin's adds puro vibes to the coffee scene with a warm and inviting space, pan dulce and more. 540 S. Presa St., (210) 781-4204, donmartinscoffee.com.
Ethos Coffee Café // Ethos offers fair trade, eco-friendly coffee on the site of Bandera Road City Church. They'll make you any espresso drink and even a smoothie if you're caffeine-averse, whether you're staying for the service or not. 9439 Bandera Road, (210) 523-9089, ethoscoffeeco.com.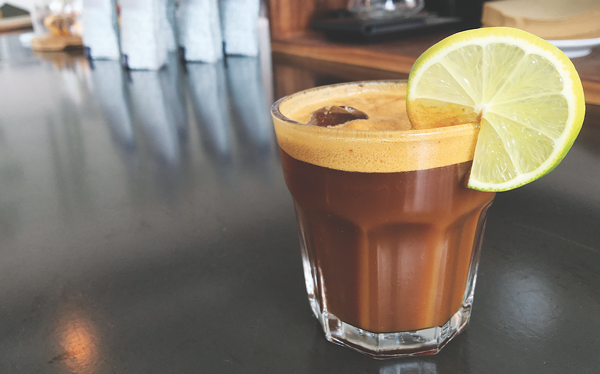 Jessica Elizarraras
Estate Coffee Co.
Estate Coffee Co. // The folks at Estate source the best coffee and ingredients for its beverages by working with family-owned importers. They also promote transparency by displaying their roasting and brewing methods front and center for everyone to observe. Try the coffee cocktails and don't pass on trying oatmilk in your latte. 1320 E. Houston St., (210) 667-4347, estatecoffeecompany.com.
Folklores Coffee Shop // The Southside has its first coffee shop in Folklores opened by the husband-and-wife team Joel "Tatu" and Emilie Herrera. The space is spunky and bright, filled with comfortable couches and local art, and over-the-top coffee creations to power you through your morning meeting. 5007 S. Flores St., (210) 455-7829, facebook.com/southsidecoffeehouse.
Halcyon // Located in the Blue Star District, Halcyon features a hip, industrial loft-style interior adorned with local art and modern décor. With plenty of tables to work and lounge areas to hang, Halcyon functions as a study space during the day. This café transforms into a hopping bar scene come 10 p.m. with full bar and spiked espresso beverages. 1414 S. Alamo St., Suite 101, (210) 277-7045, halcyonsouthtown.com.
Hinee Gourmet Coffee // Opened in 2011, this wee shop is in on the joke: "Funny Name, Serious Coffee — No Butt's About It" just so happens to be its slogan. The neighborhood joint in Helotes packs in the wild flavors and Frapp-like creations along with panini, soups and baked goods. 11881 Bandera Road, Suite 107, Helotes, (210) 695-2000, hineegourmetcoffee.com.
Indy Coffee Co. // SA's first mobile espresso provider moved away from its semi-permanent parking spot at Huebner and Vance Jackson and into a space of its own that caters to discerning college taste buds. They'll expand to the city's East Side with their newest location near Burleson Yard Beer Garden this spring. 7114 UTSA Blvd., Suite 103, (210) 233-9203, indycoffeeco.com.
Just the Drip Coffeehouse // The Point Park & Eats is now its own fabulous compound of local retail and recently coffee with the addition of the Just the Drip Coffeehouse. Stop in for your morning drip coffee or stay a while with your latte and don't forget to order food from the rotating lineup of mobile kitchens. 24188 Boerne Stage Road, (210) 687-7827.
Photo via Instagram / eatablemedia
Just the Drip Coffeehouse
Kings Cross Coffee // Harry Potter fanatics will want to get their fill of espresso patronum at Kings Cross, a roving food truck that serves up magical creations, and delicious coffee throughout Cibolo, Schertz, San Antonio, Joint Base San Antonio, and the surrounding areas. Locations vary, kingscrosscoffee.com.
The Koffee Kup // Marisol De La Cruz opened The Koffee Kup with quality beans and a line of tasty beverages for all. Stop in on weekends of vegan baked goods by Miss Chickpeas Vegan Treats such as the flaky pop tarts and kolaches. 1025 Donaldson Ave., (210) 635-0400, facebook.com/thekoffeekupco.
La Taza Coffee House // There is no place better to enjoy a nice cup of coffee than at home, but La Taza Coffee House sure comes close. The coffeehouse, under new ownership, comes complete with puzzles, a new monthly artist, and, of course, plenty of Katz Coffee out of Houston. 15060 San Pedro Ave., (210) 639-1426, facebook.com/latazajava.
Local Coffee // A "local" favorite and winner of the San Antonio Current's "Best of SA" coffee category for several years in a row, Local Coffee is serious about its craft. With several locations around the city (and Austin), San Antonians have made Local their favorite go-to café — for good reason. Multiple locations, meritcoffee.com.
Mila Coffee // Marco Lastra has been slinging espresso-based goodness out of Mila Coffee since 2015 and has watched the corner of Broadway and Appler Street change around him. But coffee has remained. Try the house-made horchata, or any of the Texan coffees available. 2202 Broadway, (210) 929-3678, facebook.com/milacoffeesat.
Mildfire Coffee Roasters // This "little shop that could" opened in 2005 as one of two joints in town roasting its own beans. Now, 13 years later, Mildfire is still kicking and thriving. Stop by the original location for pour overs and more. 15502 Huebner Road, (210) 492-9544, mildfirecoffee.com.
Olmos Perk // Something about Olmos Perk just seems to promote productivity. The classy but relaxed atmosphere encourages work and socialization. Olmos Perk makes a a perfect study destination to bring a group or go solo. Claim your territory at one of the modern but comfortable couches or plant yourself in one of the four individual study cubicles, complete with cozy chairs, power outlets and spacious desks — a studier's holy grail. You'll finish that essay in no time. 5223 McCullough Ave., (210) 858-2956, facebook.com/olmosperk.
Philoçoffee // Found inside the former home of Press Coffee, Philoçoffee brings back the third place to the San Antonio College area with colorful lattes, a full breakfast and lunch menu perfect for your mid-morning or afternoon study sessions. 606 W. French Pl., (210) 314-8450, philocoffeesa.com.
Poetic Republic // Dulce Victoria's Desserts meets coffee at this sweet little coffee shop that adds more full service espresso to the Deco District with coffee beans by White Elephant. Stop by for dessert, tea, breakfast or brunch. 150 Babcock Road, (210) 290-1616, poeticrepubliccoffee.com.
Press Coffee // After leaving their original location, Press Coffee is back in a sunlit shop that sits at the Boardwalk on Broadway. The same great coffee drinks are back, and new pastries from Annie's Petite Treats and The Bread Box line the display case. It's one of the best looking coffee houses in town so don't forget to snap a photo while there. 4035 Broadway, (210) 602-6590, presscoffeesa.com.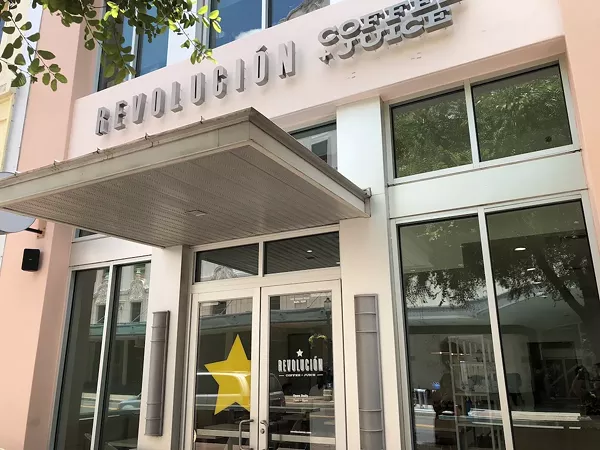 Courtesy of Revolucion Café + Juice
Revolucion Café + Juice
Revolucion Café + Juice // This shop boasts a unique flair, providing customers with a cafe experience in the bright and pristine environment of a juice bar. The coffee offerings reflect Revolucion's health focus with options ranging from honey lavender lattes to matcha green teas to vegan and gluten-free drink and snack options. Take advantage of the grab-and-go convenience of stocked refrigerators full of fresh-pressed juices. Come in for a latte and pick up your favorite juice to go. Namaste. Multiple locations, revolucionsa.com.
Rosella Coffee Co. // The little coffeeshop on Jones now has outposts off Houston Street, inside the Alon Market H-E-B, Methodist Hospital off Floyd Curl and inside the former carriage house at the San Antonio Botanical Garden. Multiple locations, rosellacoffee.com.
Shotgun House Roasters // The West Side gained a new coffee shop in 2018 with the addition of boutique roaster Shotgun House Roasters. The shop is light, airy and vibrant with greenery and a perfect place for a meeting or mid-afternoon work sesh. Make sure to check out their monthly subscription boxes filled with swag and a special roast. 1333 Buena Vista St., Unit 108, (254) 913-9031, shotgunhouseroasters.com.
Sip Brew Bar & Eatery // Renovated to look like a traditional coffee shop now so more than ever, Sip is the local middle finger to its Arbuck-Stay neighbors. Stop in for a gelato during the summer, and nitro pours by Estate Coffee Co. 160 E. Houston St., (210) 223-3900, facebook.com/sipbrewbar.
Summermoon Coffee // Now with two locations in San Antonio — off N. St. Mary's Street and Alamo Ranch — this Austin-based coffee wood-roaster keeps fans happy with their signature Moon Milk with seven secret ingredients that make turn most lattes into a warm (or cold) and sweet hug. Multiple locations, woodfiredcoffee.com.
Sweet Pea by Estate // Mobile coffee touched down in Southtown with this sweet trailer that spreads the gospel of Estate Coffee's lavender lattes and house-roasted beans. 1203 S. Alamo St., estatecoffeecompany.com.
Theory Coffee // Still anchoring the corner of Nacogdoches and Loop 410, Theory Coffee keeps patrons happy with locally roasted beans from Austin's Wild Gift Coffee Roasters, and expertly pulled espresso shots time after time. 2347 Nacogdoches Road, (512) 507-3025, theorycoffeeco.com.
What's Up Brewing // The oldest coffee roasters in San Antonio have opened up their roasting room to the public with a seating area, and yes, a pinball room. 138 W. Rhapsody, (210) 308-8882, sacoffeeroasters.com.
White Elephant Coffee // The baby blue building at the corner of St. Mary's St. and Carolina St. is home to one of the city's most lauded beans. Watch them roast every week, or visit them for your favorite pour over, beaker brew or Elephant water for the non-coffee drinkers. 110 W. Carolina St., (210) 465-9478, wecoffeecompany.com.
So many restaurants, so little time. Find out the latest San Antonio dining news with our Flavor Friday Newsletter.