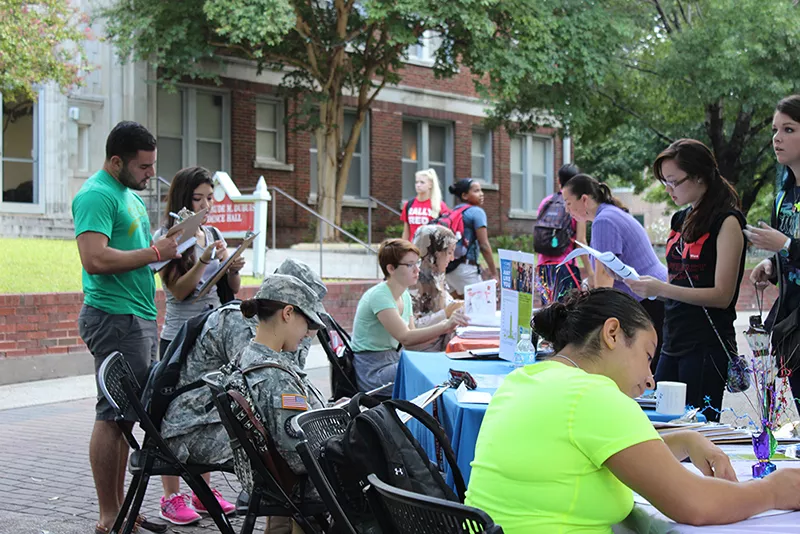 Congrats! You're going to college! Now, some of you may be attending your dream school, your second choice, even getting your basics done at a community college before transferring to a four-year school. Either way, it's still exciting!
Like most of the people I have met on the road of higher education, my parents didn't go to college. My family had no clue about financial aid, GPAs, remedial classes and registration. I had to figure most things out on my own.
In pop culture, there are common thoughts about college life such as partying, dorm life and pulling all-nighters. To tell you the truth, while these issues may be true for a few students, they may not be the same for you.
For starters, college is expensive and sometimes the money we get awarded in financial aid is just not enough. As students, we are expected to pay for books, parking stickers, registration fees, insurance fees, legacy funds, computer lab fees, meal plans and housing. There is even a fee in our tuition for the gym — whether we use it or not.
Most of the stress I have ever been under at school has more to do with paying for it rather than dealing with academic challenges. But I have to say: You get what you pay for.
Some advice for managing these expenses: Find a part-time job or two. Almost every student I have met is working about 40 hours a week to pay for everything. Find a work-study job on campus — it's a great way to make money to pay for tuition and you'll be working for your school. So you can meet people and even work in the department you're majoring in.
Avoid buying your books from the campus bookstore unless absolutely necessary (for instance, if your professor wrote it and it is only available there). You may never even use the book, especially if there are five required texts for one course. Also, the resale value on the book you never even opened is a joke. Rent from online sites. Look on Craigslist. Try used bookstores. Search for a free online PDF. Try to buy it from students who have already taken the class.

A majority of college students don't live on campus. Students choose to save money by living at home. Commuter students make up more than half the student population in SA. For most people, that means driving in traffic and fighting for a parking space — all for an hour-and-a-half class (or in my case, riding the bus for about two hours in traffic for that same class).
When commuting to school, it can be tough to want to stick around campus for anything other than that day's classes. But it is well worth it. Just because you don't get the full college experience because you live at home doesn't mean you have to miss out on everything. On any given day, there are organizations putting on lots of activities, giving away free stuff and being genuinely friendly. Make time for these festivities. Make time between classes, work and studying. After all, you are paying for it. Look into different organizations that pique your interest. They will open so many doors for you (or at least give you free food and new people to talk to).
Check out your professor on ratemyprofessor.com (similar to Facebook stalking but instead you're collecting intel that can be crucial to your grade). During class: Try to take notes, ask questions, turn everything in on time and engage in class discussions (you'll get to know more people this way). Some courses will be tough and you may struggle with the work. More than half the fees you pay for go toward tutors that are available on campus to help you. Use these resources. And if the going gets tough, drop the class and try again later. Register for classes you wouldn't normally think of trying, such as ballet and world religions.
College will be nothing like what you expected it would be, but it will be what you make of it. Smile at people. Take advantage of every opportunity. Show up to class. Try to keep a positive attitude about everything. Have fun. And get to know people and your campus. After all, four years goes by in the blink of an eye.
Reprinted courtesy of Logos, the student newspaper at University of the Incarnate Word.