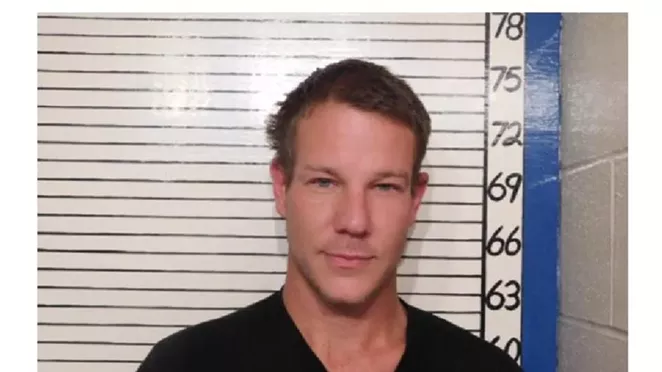 Comal County Sheriff's Office
A Comal County man who threatened to kill a woman's unborn child has been charged with one of the state's most egregious crimes: Solicitation to commit a capital murder.
Jason Dean Hunter, 37, was also indicted for rape, assault with a deadly weapon, and stalking the pregnant woman—but the murder charge alone could leave him facing up to 99 years in prison. While Hunter's sexual and emotional abuse is indisputably criminal, legal experts say the first-degree murder charge is highly unusual and could quickly become a "problematic" legal issue.
"I haven't heard of anything like this before," said Mario Del Prado, a San Antonio criminal defense lawyer. But Del Prado said he wasn't surprised to hear that this "aggressive" charge came out of Comal County.
"It's emblematic of their court system," he said. "They are always trying to push the envelope, to stretch things to the uttermost limit."
A Comal County grand jury stuck Hunter with the murder charge based on a series of explicit and violent text messages he had sent to the woman last fall. Many of them outlined the gory steps Hunter would take to make sure the woman didn't give birth, ranging from forced abortion to threatening to cut the baby out of her and "put it in a fucking blender."
His messages also made explicit death threats to the woman and her family. Hunter acknowledged he knew his actions would put him behind bars, but didn't appear fazed by the idea.
"You see the problem is you don't know how the justice system work (sic)," he wrote, according his indictment. "You can lock me up I may even do six months on a Class B misdemeanor for harassment but when I got out...you're going to see hell open up over your head...I will slit your throat when I get outta jail."
This is where things get confusing. Since Hunter threatened both the woman and her unborn child, Del Prado doesn't understand why he's only been charged with soliciting to kill the fetus—or why he was even hit with that charge in the first place.
"I could see him being charged with a terroristic threat [to commit violence] or a serious assault by threat, but a capital murder? That's the worst of the worst. It's concerning," said Del Prado. "It's a slippery slope. It's one thing to tell a woman she should get an abortion, another to say 'I'm going to do this, I'm going to murder.'"
Feticide, or murder of an unborn fetus, is illegal under Texas law. In the law's text, the state gives an unborn child "at every stage of gestation from fertilization until birth" the same legal rights as a human being. In practice, state feticide laws are meant to bring harsher penalties to people guilty of murdering a pregnant woman.
But the vague legal details of these laws have opened the door to cases where women themselves are charged for the death of their fetus. Just last October, an Indiana woman was sentenced to 20 years in prison for taking pills to induce an abortion—a ruling that is still under debate.
It's not exactly clear what kind of impact Hunter's case could have if he's convicted of soliciting the capital murder of a fetus, but Del Prado says it's "disconcerting that this is where the county went." He added: "This will probably become an issue if he is convicted for the charge."


Hunter is currently being held at the Comal County Jail on a $1 million bond.