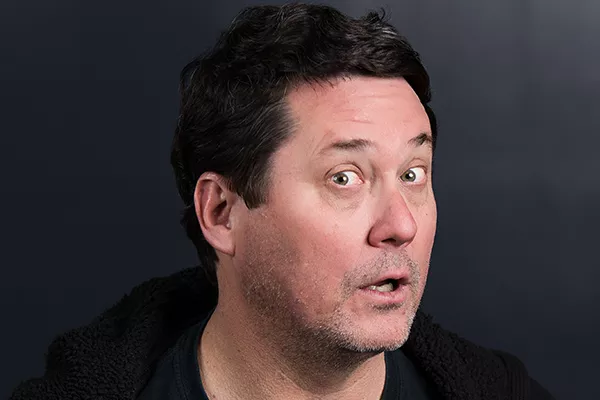 Courtesy of Laugh Out Loud Comedy Club
Movie-loving marijuana enthusiast Doug Benson is nothing if not consistent with his brand.
Known to many for
Super High Me —
his 2007 pot-themed response to Morgan Spurlock's gimmicky fast food documentary
Super Size Me —
Benson is also notable as one of the early adopters on the podcast scene. He launched
I Love Movies with Doug Benson
all the way back in 2006, which he's bringing to Laugh Out Loud Comedy Club this weekend under its updated name,
Doug Loves Movies
. As suggested by the title, Benson discusses all things film with each week's guests, filling out the podcast's hour-plus episodes with segments including Watch This/Not That, Not for Emetophobes and Now Buscemi Now You Don't.
In a trademark move, Saturday's
Doug Loves Movies
show will start right at 4:20 p.m. — Benson's favorite time of day, natch. However, while he makes a point to toke up at 20 after the hour for each of his weekly YouTube livestreams of
Getting Doug With High
— so "it's 4:20 somewhere" — we doubt he'll be doing any smoking onstage at LOL, since, you know, it's not strictly legal in the Lone Star State.
$20-$30, 4:20 p.m. Saturday, February 1, Laugh Out Loud Comedy Club, 618 NW Loop 410, (866) 468-3399, improvtx.com/sanantonio.


Get our top picks for the best events in San Antonio every Thursday morning. Sign up for our Events Newsletter.