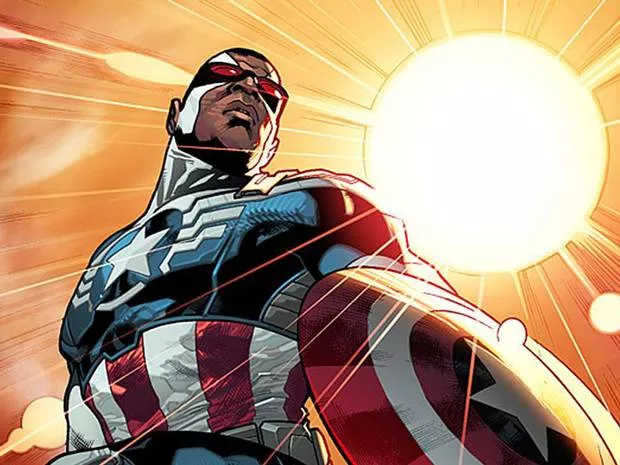 Marvel's new Captain of America
With announcements that the new Thor is a woman and the new Captain America will be black, the comic book industry is undergoing historic changes. Veteran comic artist Brett Booth believes these changes will bring much needed diversity to the industry.
For years, Booth has worked for big names in the DC Universe. He's done art for Teen Titans, Justice League America and Nightwing. Currently, he pencils The New 52's The Flash.
To Booth, increasing gender and racial diversity in comic books make them more inclusive and relatable to many readers.
In a recent podcast, Booth explained that when many of the popular superheroes were originally designed, their creators didn't consider diversity as seriously as we do today. Hence, many heroes and villains tended to look like their creators: white and male.
Today, Booth said, the aim is "... to include everybody, and not exclude anybody."
In terms of racial diversity, the comic book world has seen some notable changes. In 2011, Ultimate Comics: Spider-Man's Miles Morales is of black and Hispanic descent. John Stewart (aka The Green Lantern) is also black.
Changing the gender of an established superhero is not unprecedented, either. Marvel's character Sasquatch (aka Walter Langkowski) turned into Wanda Langkowski when his soul came to inhabit a human female's body. Batgirl (who recently received a brand-new look) has also taken on a life of her own after only starting out as a female version of Batman.
Changing aspects of a comic, however, can rub some fan groups the wrong way, said Booth.
"Problems arise when you try to appeal too much to one group, it can backlash and turn off the core fans so you loose [sic] the larger group..." Booth wrote in a recent email. But then again, this is coming from a fan base that recently went ballistic over the naming of Ben Affleck as the newest Batman on film.
The best way to quell worried fans' concerns is to focus on dynamic storylines for female and minority characters, said Booth. Simple inclusion without the attendant attention to writing and art won't do much good.
Nevertheless, Booth is optimistic about the future of the comics and the work of people who are making them more inclusive.
"Luckily there are hardcore fans that will buy everything, so there is a bit of a safety net while you try and find a way to appeal to both groups," Booth said. "There is no easy solution. There is no formula to making a good comic that appeals to everyone. Every book is a bit of luck with lots of trial and error."
Wizard World Comic Con
Single-day: $35-$45;
three-day pass: $75;
autographs and photo ops: $35-$100; VIP: $200
3-8pm Fri; 10am-7pm Sat;
11am-5pm Sun, Aug 1-3
Henry B. Gonzalez Convention Center
200 E Market
wizardworld.com