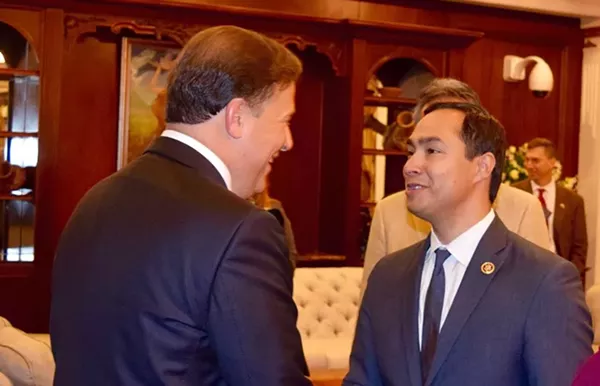 Joaquin Castro
Congressman Joaquin Castro of SA met Panamanian President Juan Carlos Varela at the Summit of the Americas.
San Antonio's Joaquin Castro was the only Texan on the congressional delegation to the Summit of the Americas in Panamá this weekend.
He let out a hearty laugh when asked if he got to meet Cuban leader Raúl Castro. He clarified that no, he didn't meet him – that moment was reserved solely for President Obama.
"I did get to meet Cuba's lead negotiator with the U.S.," Castro, a member of the U.S. House Foreign Relations Committee, told the San Antonio Current on Monday evening after returning to Washington.
Oddly enough, it was his ethnic background that seemed to garner him national headlines.
That came via an interview in Panamá City with MSNBC anchor Andrea Mitchell, who asked the congressman about his take on divisions on Cuba policy within the U.S. Latino community.
"You have a Cuban-American background," Mitchell told the young congressman.
Ah, no.
Not even close.
"Well, I'm Mexican-American," Castro interjected, trying to joke about having the same last name as a pair of Cuban citizens of certain notoriety.
Asked about that awkward exchange, SA's Castro, not surprisingly, remained unequivocally diplomatic.
He has great respect for Mitchell and the whole thing surely was mistaken information she was fed by her producers, he said.
"I didn't take it as an insult," he said. "I'm used to people joking around because of my last name."
Yet, insult or not, he clarified that he also couldn't simply stay mum: "I had to say something because I don't want people thinking I'm pretending to be Cuban."
Beyond Mitchell's gaffe, Castro said the experience was "incredible."
He got to sit with presidents of 34 Latin American countries and took part in meetings with seven of them – Panamanian president Juan Carlos Varela was particularly "sharp."
Most of all, said Castro, his hope is that Latin America begins regaining top priority status vis-à-vis U.S. foreign policy.
Anything that goes on in the Middle East gets immediate attention – not so for our neighbors in the Americas.
"My hope is that many of these nations can truly start seeing our relationship with them in a bilateral fashion," Castro said.