Sometimes restaurants just get it all wrong. Food pairings seem so off, you wonder if there was a misprint on the menu, or if the dishes are being devised by a group of chimps.
A recent visit to Chuy's had me wondering just that, when my shrimp taco was served in
Heavens to Betsy!
a flour tortilla.
This just seemed wrong from the get-go, and the first bite confirmed my looming disappointment (saucey-shrimp-veggie goodness on the inside, salty sticky tortilla on the outside). I mean, who's ever seen a fish (or shrimp) taco in anything other than a corn tortilla? Check Google images, it just doesn't happen. At least not that often, only when you let the chimps run amuck in the kitchen.
Luckily, the server wasn't too grumpy when I asked for corn tortillas (she saved getting pissed for when we ordered dessert and asked for water after the bill was paid!). Truly, the corn tortillas saved the day.
Bottom line - if you get the fish or shrimp tacos as Chuy's, get 'em grilled and ask for the proper tortilla upfront. Or do what I did tonight and just make your own. It's a lot less worrisome, and more fulfilling when you are actually in control of your own food.
That can lead to two things: one, you are perpetually let down or two, you'll complain enough to the right people to get the chimps' asses in gear. There's no reason to spend money on mediocrity. As consumers, we control what is given to us, believe it or not - with our dollars as well as our opinions, criticism and feedback. So be heard, people!
Awesome Homemade Fish Tacos
(yes, good food can come from your very own kitchen!)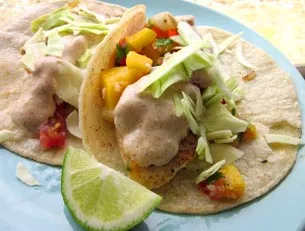 Tilapia filets, fresh or thawed (the frozen ones from HEB are convenient and affordable. Plan on one per taco)
Cajun seasoning
1 tablespoon olive oil
corn tortillas
shredded cabbage
Mango Salsa (recipe below)
Heat the oil in a skillet (iron is my preference). Place in the fish, sprinkle with Cajun seasoning to taste. Cook on one side until well browned, flip and repeat. Serve with CORN tortillas, shredded cabbage and a nice squeeze of lime juice.
Mango salsa:
2 ripe tomatoes
1 large tomatillo
1 mango
2 serrano peppers
1/2 cup cilantro, chopped
1 clove crushed garlic
juice of 1 lime
sea salt to taste
Dice the first four ingredients, toss with everything else. Consume frequently as the vitamin C in this salsa will do wonders for preventing scurvy.