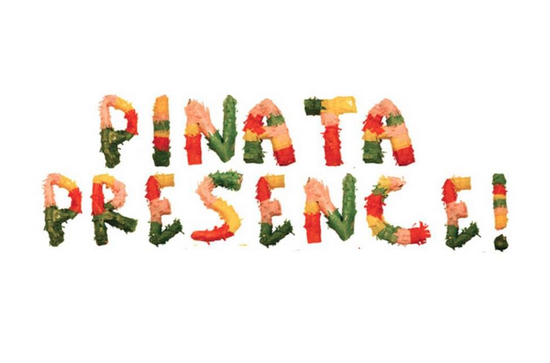 Joy is coming to San Antonio in the form of papier-mâché and brightly colored tissue paper, courtesy of Shannon Gowen and Gabriela Santiago. These two local artists are the creators of Piñata Presence, an on-going public art project set to take place during Contemporary Art Month (CAM).
Today, Gowen and Santiago will set-up the first of a series of pop-up piñata art installations that people can interact with at various locations in the Downtown area. The two will install and document each day's artwork before publishing the day's location at
pinatapresence.com
and on
Facebook
and
Instagram
for people wanting to track down the newest festive, handmade work. Pop-up piñata art hunters can share their own photos using the Instagram hashtag #PinataPresence.
Most days, Gowen and Santiago will leave behind just of one of their vibrant, handcrafted piñatas at a downtown location. Some may be hung up, and some can be bust open to reveal a hidden prize, so be sure to practice your blindfolded piñata-cracking. The artists are also planning weekly installations that are music larger in scope, featuring super-sized versions of the birthday party staple.
Piñata Presence is a year in the making, an idea inspired by SA glass artist Sean Johnston and his 2014 CAM project
Esferas Perdidas
, an
interactive scavenger hunt
in which participants searched for handblown glass marbles Johnston had hidden around the city.
Gowen told the
San Antonio Current
that she and Santiago chose to launch Piñata Presence during this year's CAM as a nod to the interactive art project that inspired them. But they hope to continue their daily piñata installations beyond March. Plans are to continue the ongoing project at least through Fiesta and possibly into the summer.
Piñata Presence gets an official kick-off during today's Taco Friday at Artpace (445 North Main Ave., 212-4900,
artpace.org
). There's a photo booth set up today until 2 p.m. so you can get a snap with some of Gowen and Santiago handmade party props.