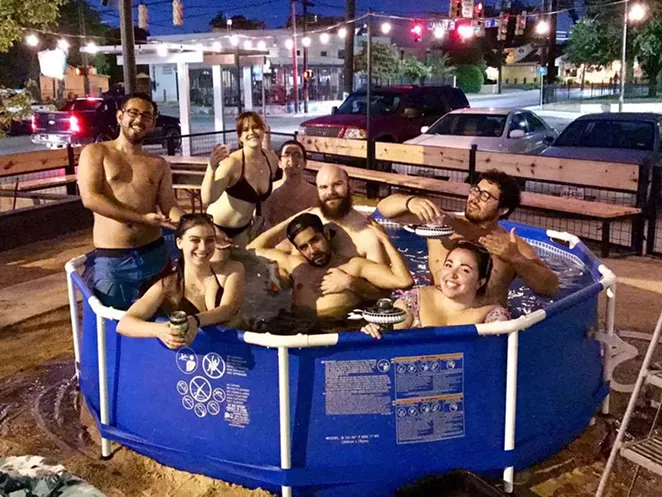 Looking for the ultimate Sunday Funday?
Rumble
has you covered.
For the past month, Rumble has been setting up a whole pool for those looking to take a break from the heat. The watering hole (literally) is located underneath the patio section of the bar and is chlorinated and filled when the bar opens at 4 p.m. then stays up until the sun goes down, at about 9. This Sunday will be the fourth week for Rumble's party, and they plan on having at least four more celebrations before the summer ends.
It's a great opportunity to spend your Sunday drinking cocktails, beer, or whatever you choose, and relax in a pool with a bunch of friends. Though most that attend the event are industry folk, or bar regulars, Rumble welcomes everyone.
<!—————StartFragment—————>For those on a budget, there are drink specials which are posted on the board and can include house shots and beers, the pool is free, and so is the food! Guillermo Mendez, from Southerleigh, grills up tasty burgers and dogs with all of the fixings (and some homemade sauces). The bites comes at no charge, though it is encouraged to tip the hand that feeds you, and order plenty from the bar. Be sure to check out the pool party this Sunday!
#rumblelovesyou
2410 N. St.Mary's St., (210) 365-3246.
<!————EndFragment————>

<!————————StartFragment————————>Erin Winch writes about boozin' in the Alamo City on her blog Drinking In SA. Follow her on Instagram at @drinking.in.sa for more.