Fun fact: Summer doesn't officially start until June 21 with the summer solstice, but that hasn't stopped temperatures from climbing into the 100s. Still, there are ways to cool off that don't mean reaching for another cold brew.
Nitro Moon //
The Austin-based shops is one of the few in town to carry nitro coffee, a nitrogen-infused beverage made popular by Cuvee Coffee and carried the coffee world over. When done right, the coffee is smooth to the point of velvety, and relies on the coffee's natural sweetness. If you need more sweetener, a Nitro Moon is available with signature moon milk by the shop. Available in 8, 12, and 16 ounce pours.
3233 N. St. Mary's St., Suite 102, (210) 320-1773.
Jess Elizarraras
Sparkling lavender lemonade from Estate Coffee Co.
Sparkling Lavender Lemonade //
Estate Coffee unleashed it's summer specialty menu just in time as the temperatures climbed into triple digits. The cold brew shandy returned, as did the espresso tonic and and the frotus (a combination of cold brew, grenadine and Topo Chico), but the menu also includes highlights like the Coffee Sangria, cold brew coffee that's soaked in fresh red apples, green apples oranges and raspberries to enhance the beans' natural sugars; and the Sparkling Lavender Lemonade, which combines lavender tea syrup, lemonade and Topo Chico for a caffeine-free refresher.
1320 E. Houston St., A101, (210) 267-8725.
Jade Warrior //
Spring matcha and a house-made strawberry syrup join forces in the Jade Warrior, an old favorite by Indy Coffee Club. It's sweet but light and features actual strawberry pulp so you know it's real.
7114 UTSA Blvd. Suite 103, (210) 233-9203.
Jess Elizarraras
The Jade Warrior from Indy Coffee Club.
Cafe de Olla //
The Art of Donut brought back a favorite this summer. Their cafe de olla, which is made with cold brew, piloncillo and cinnamon, is a must, but so are there fruit-based refreshers. The passionfruit is minty, light and bubbly, ideal for a sweaty stroll through Southtown or sitting windows-down stuck in traffic — just like the Drake song of the same name – and the pineapple version packs in a tangy taste, transporting you to the shores of Hawaii, even if you're stuck at your desk.
3428 N. St. Mary's St., (210) 265-5423.
Iced Agave Latte //
At The Koffee Kup, new owner Marisol de la Cruz opened with a different menu than most shops. There's a Cuban, Vietnamese iced coffee, and a sweet Bombon, but this summer, she's added fruit-based drinks and more to the lineup including the popular Agave Mixer that starts with an agave syrup base, two shots of espresso, choice of milk and ends with ice. It's a fun take on the cafe con leche, but definitely more refreshing.
1025 Donaldson Ave. (210) 635-0400.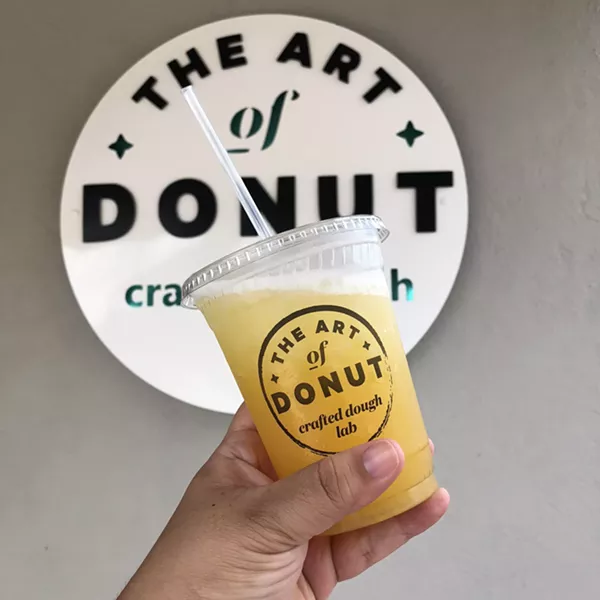 Jess Elizarraras
Pineapple refresher from The Art of Donut
Chocolate Mint Cold Brew //
Cuppencake's sweet desserts have a new beverage pairing these days. The summer menu includes iced teas, cold brews and a honey lemonade, as well as the chocolate mint cold brew that's finished off with house-made mint and chocolate syrups.
22211 I-10 W. Access Road, Suite 1111, (210) 892-3010.
Mary-Anne //
Shotgun House Coffee Roasters opened their doors on the city's West Side to fawning fans and really great coffee (including a delicious dirty iced horchata). The summer edition of the menu takes a stab at Southern sweet tea and combines black tea, fresh finger and pure maple syrup from Vermont (obviously) for a bright, not-so-sweet, and layered refresher.
1333 Buena Vista St., (254) 913-9031.

So many restaurants, so little time. Find out the latest San Antonio dining news with our Flavor Friday Newsletter.