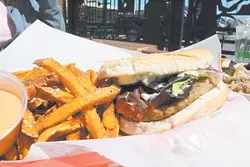 Sea salt and sesame sizzle on the sweet-potato fries - but the burger melted
Release Date:
2010-04-14
Some research has suggested that the human body has evolved over these hundreds of thousands of years craving but three things: fat, sugar, and the Cove's fish tacos. While I've sometimes felt a little fleeced over the size of the tilapia strips nestled in those corn tortillas, I've never been disappointed by their quality. And yet the average entry price for a Cove plate (roughly $9) has forced the venue into the "special occasions" column of my local-food spreadsheet. With money an unavoidable object for a large slice of San Antonio, the pressure on established venues like the Cove to be consistent is high. My last Meatless spot check found them lagging.
I don't know how the soggy mash of chickpea matter becomes more precious than ground-down "sustainable, local, organic" cow parts, but it did last week. I arrived perfectly prepared to fan the establishment's coals with praise for all the reasons that have made the Cove (restaurant, playground, bar) a mecca for San Antonio's mellower set: inner-city, open-sky patio; singer-songwriter tune curdlers; earth-friendly kitchen ethics. But when my friend slipped me the new menu, I was seduced by the promises of the '09er Burger's roasted red peppers, goat cheese, and pesto aioli, and had to get difficult — I ordered the '09er with a veggie-patty substitute.
As this adventure was being underwritten, so to speak, I piled on with a plate of roasted farmers-market veggies, topped off with a chocolate tart. To help canvas the menu's range of carne-libre ofrendas, my lunch date settled on the veggie club. And damned if that seemingly meager veggie plate didn't steal the show. The roasted beets were sweeter than expected but just as dirty on my palate, in that rightly loved-on, locally harvested sort of way. My first exposure to fennel, served with quinoa under some drips of olive oil, rocked. As did my reintroduction to the kitchen's solid hummus treatment.
Both sandwiches were above average — especially my partner's club, featuring perhaps the best fake bacon I've ever had, with integrated smoke flavor and sunflower seed. On my side of the table, those dollops of roasted red pepper and fresh goat cheese helped distract me from the constructive failings (and by that we mean "mush") of the veggie patty. Vegetarians are typically a forgiving (pacifist?) lot, used to disappointment. While the Cove serves boisterous salads aplenty, and carefully cultivated options from area growers, a failing veggie burger — a menu cornerstone — is a hard loss to take. Mine freshened up several hours later, when we retrieved the uneaten half to nosh on that night. No longer feeling the price sting of our afternoon substitution — which turned the $9 '09er into an $11 burger, without any explanation from the guy at the register — the range of flavors came out to dance across our tongue.
Of course, the Cove hasn't lost a semi-regular customer, by any means. We'll be back in a few months, as always. But we'll be limiting our choices to the simpler plates and be twice as wary of substitutions. •