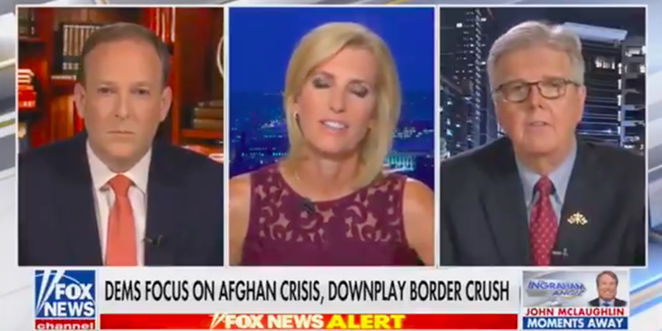 Twitter / @atrupar
This screen capture shows Lt. Gov. Dan Patrick during last week's Fox News appearance.
Unsurprisingly, this week
Current
readers continued to follow the ongoing legal tug of war between local municipalities trying to enact policies to protect their residents and Gov. Greg Abbott's partisan crusade against basic public health measures.
Readers also took note of Lt. Gov. Dan Patrick's latest antics — last week, he went on Fox News and falsely blamed Texas' COVID-19 case surge on unvaccinated Black people.
It wasn't all about COVID, though — read on to catch up on this week's top stories.
10.
Postponed Ford Parade of Lanterns returns to the San Antonio River Walk this weekend
9.
Battling the Infodemic: As online disinformation snowballs, how do we avoid being crushed?
8.
Texas Supreme Court temporarily halts San Antonio mask mandate for public schools
7.
Live Music in San Antonio This Week: Banda MS, Kevin Costner and Modern West plus more
6.
UTSA and Southwest School of Art will combine to form new art school in downtown San Antonio
5.
CityScrapes: An open welcome letter to San Antonio's new economic development director
4.
Abbott asks Texas Supreme Court to strike down ruling protecting San Antonio's school mask mandate
3.
Texas Right to Life sets up site asking for anonymous tips on people who get or offer abortions
2.
San Antonio's Santikos Entertainment will revive shuttered Alamo Drafthouse Westlakes
1.
Lt. Gov. Dan Patrick falsely blames Black people for Texas' climbing COVID-19 numbers
Stay on top of San Antonio news and views. Sign up for our Weekly Headlines Newsletter.