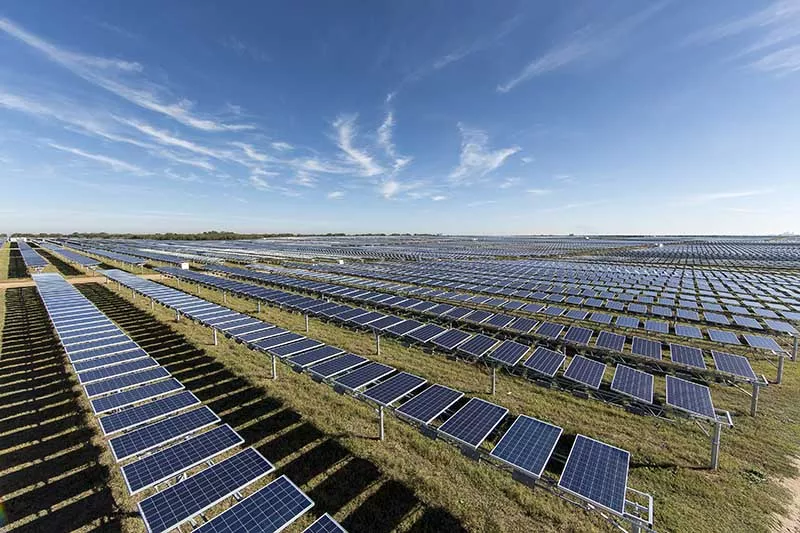 OCI Solar
The 40 MW Alamo 1 in South San Antonio
It's hard to realistically plan for life in San Antonio 26 years into the future. By 2040, every current player in a Spurs jersey will be long retired, seven presidential elections will have passed and—at the current rate of production—19 new iPhone models will be introduced into and phased out of consumer pockets.
Meanwhile, the global temperature will flirt with the 3.6 degrees Fahrenheit target, the international high-water mark for limiting our impact on the planet.
For San Antonio, 2040 is the year to beat for sustainable practices. As a key tenet of Mayor Ivy Taylor's comprehensive plan for 2040, SA's sustainability report card will help determine where we are on a national level, as a clean environment and energy sources become even more vital to civic life in a fast-changing world.
Headed by District 8 Councilman Ron Nirenberg, Dr. Afamia Elnakat of UTSA and Darryl Bird of SA 2020, the sustainability-steering committee will determine the city's route to green living, informed by business groups and public participation. "And not just public input," says Nirenberg, "but actually citizens driving the effort and creating the vision for the city as they've done with SA 2020, which is the starting point for comprehensive planning."
In 2014, San Antonio is in a healthy infancy for sustainable energy. Despite crude oil selling at a ridiculously cheap $80 per barrel and the boom in Texas fracking, CPS Energy has renewables and low-carbon sources on its mind. At the end of 2013, CPS had 1,154 megawatts of clean energy operating, with a total of 1,517 MW confirmed and contracted. With SA 2020's goal of 1,500 MW of renewable by 2020, CPS is well ahead of its clean curve.
When CPS states that it has 1,154 MW of clean energy, that's in capacity. "Capacity is the maximum amount we have available to us in megawatts," says Tracy Hamilton, project manager at CPS Energy.
SA's green capacity receives power from three main sources: solar, wind and landfill gas collection. Drive about 10 miles south of Southtown and you'll come across Alamo 1, 445 acres dedicated to photovoltaic solar harvesting. Photovoltaic panels are the deep blue and square-hatched lattices that come to mind when you think solar farm, tanning in the Texas heat to convert sunlight to direct current electricity.
With the San Antonio skyline a faint dot in the distance, Alamo 1 generates a max of 40 MW, 10 percent of the contracted 400 MW of solar boosting the city's renewable plan.
Just within Loop 1604 on the Southwest side, the Nelson Gardens and Covel Gardens collect up to 9.6 MW of power. A nice image for a nasty business, the "gardens" collect methane as organic material decomposes inside the 277-acre landfill that closed over two decades ago. So, your tossed leftovers from the '90s could help reheat the leftovers of today.
With the largest impact of any purely green source, wind makes up 1,059 MW of energy routed to San Antonio. With eight wind farms operating in the valley, Central and West Texas, these king-size pinwheels—generating up to 1.5 MW each—put a serious dent in SA's energy demand.
At 13.7 percent of the total capacity of 8,097 MW, CPS' 1,154 MW of squeaky-clean energy is bolstered by the industrial-strength and relatively clean sources of nuclear and natural gas. Including peaking units—the overtime plants that kick in to generate extra energy during times of max usage—natural gas accounts for 3,632 MW, or 44.8 percent of total capacity.
Carbon-free, cheap and increasingly safe, nuclear plants have modified their preventive and response plans since the Fukushima disaster, more J. Robert Oppenheimer than Homer J. Simpson. In Wadsworth, Texas, 90 minutes south of Houston, CPS owns a 40 percent share in the twin, bulb-shaped plants of the South Texas Project nuclear station. The 1,080 MW of carbon-free electricity provided by the STP generator creates 13.3 percent of SA's energy supply.
Coal, the plentiful and heavy pollutant, still represents a black-stained page in the SA energy portfolio, at 27 percent of total capacity. But CPS plans to deactivate the two-unit, coal-fired Deely plant by 2018, reducing reliance on the cheap, sooty stuff. "Our CEO [Doyle Beneby] has been super progressive, seeing the low-carbon future," says Hamilton. "That we will likely never build another coal plant. He decided we were going to shutter our oldest and dirtiest units 15 years ahead of schedule."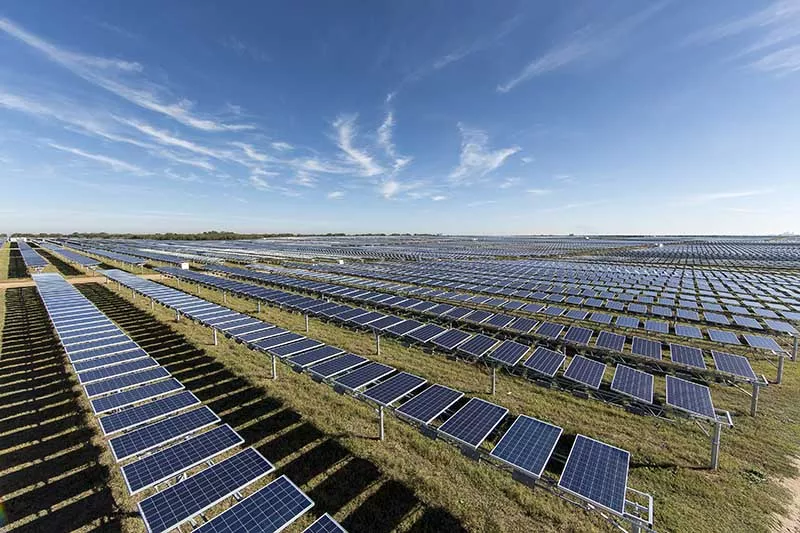 OCI Solar
The 40 MW Alamo 1 in South San Antonio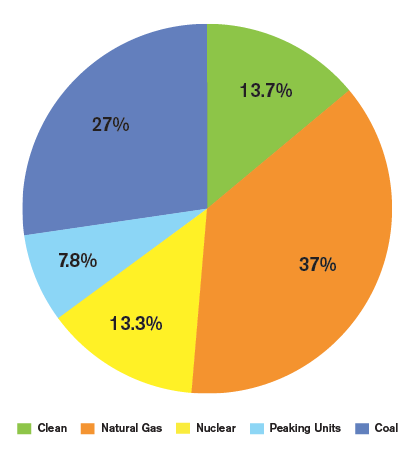 Living in the Sprawl
These are the good numbers, the diverse energy sources that keep monthly bills cheap. "The key for me is diversification," says Elnakat, associate professor of research at the UTSA Texas Sustainable Energy Research Institute. "If you diversify one source, if it goes wrong or if it becomes expensive or if something happens, it doesn't penetrate your system. There's other things to back it up."
But, as CPS marches toward a promising energy future, the city is chained to the symbiotic weights of sprawl and poor air quality. According to their 2011-2013 Energy Sustainability Report, CPS covers 1,515 square miles of service, an area just 40 square miles smaller than Rhode Island. Though CPS has made true strides in renewable energy, spreading this electricity across a rambling metro area dilutes efficiency and environmental benefits.
With no natural barriers to the growth north of Loop 1604, demand for new housing in the area is likely to expand with the population of Bexar County. By 2050, the county is expected to gain 1 million new residents. If the growth occurs farther north, that means more water and electricity infrastructure, lawns to water, pets to feed and, critically, more miles to drive.
In commute, chores and recreation, SA drivers travel 27 miles per capita per day. As total mileage increases with more drivers on the road, SA may lose its footing as the only major American city on par with the EPA's clean air attainment status. Since 2012, SA's ozone readings have been above the EPA-determined 75 parts per billion level. If the EPA changes their standards in their 2017 review period, San Antonio would become a city in non-attainment, facing possible sanctions.
At the individual level, the dirty air impact is more immediate. In vulnerable populations, like asthma, allergy and tuberculosis sufferers, increased ozone levels can worsen respiratory issues. "All the particulate matter, which is basically dust, doubles-down with allergens," says Elnakat. "Because of our erratic weather patterns, not just in San Antonio, but globally, the germination and pollination of plants has changed quite a bit. The plant doesn't know if it's summer or winter, so it keeps producing that pollen." If air quality worsens, expect the carpet-bombing of cedar pollen to aggravate future springs.
Eyes on the Prize: SA in 2040
The question of longterm sustainability is really a question of urban planning: How can San Antonio achieve efficiency without disrupting quality of life?
For City Council, the answer is in the constituency. Like the SA 2020 initiative—culled together from community interests—the comprehensive plan for 2040 will gauge the needs of SA citizens. Announced first in August, the comprehensive plan should be ready by early 2016.
For Nirenberg, the process is as important as the plan. "We have to think longterm, we have to really work hard to establish a sustainable process," he says. "I use that word sustainable deliberately. We have to establish a process where stakeholder involvement and citizen participation remain the fundamental building block of the plan. Because we know that in 20 years, there will be different goals, different ideas about what we can do with the resources that we have. But if we have the process in place, people will still be invested in the comprehensive plan and we can evolve how we work."
In the meantime, CPS and the City work to reduce environmental impact. As clean sources become more vital to SA's energy equation, CPS slashes at the other side of the equal sign to reduce demand.
According to their Save for Tomorrow Energy Plan (S.T.E.P.), CPS will reduce peak demand (the maximum hour of energy use) by 771 megawatts, about the equivalent of a coal power plant. To do so, they'll be investing in efficient infrastructure and a smart grid.
"For 100 years, we had a grid that only goes one way," says Tracy Hamilton. "We produce power, we send it through the lines to your house. Now, we're working on creating a network where you can send solar back the other way. Not only are we looking at building a modern grid but looking at it as more of a network."
This network will link individual solar units back to the power grid, allowing a two-way energy exchange for buildings with small solar rigs. Already, San Antonio has close to 20 MW of rooftop solar, the largest number of any city in Texas. And with their impending community solar program and pilot rooftop programs, CPS plans to expand these urban micro-farms.
Ideal for renters or homes in permanent shade, the community solar program operates like a timeshare. First, a contractor creates a nearby solar farm on CPS property. "And then you could buy a share of it, two panels worth or 10 panels worth," says Hamilton. "The power that the system creates, you will get credit based on the share of what you buy."
For those who do own a sunny rooftop but can't afford a solar investment, CPS is preparing its pilot rooftop program to install solar free of upfront cost. With the panels pumping, the homeowner would receive a fixed rate credit on their monthly bill.
But it's not all sun and games. "Let's say you put solar on your roof and zero-out your bill," explains Hamilton. "We still have all the fixed cost of poles and wires. But you now aren't paying that. So how do we get that? We get that from everybody else who doesn't have solar on their roofs. So all the people who don't have solar around you are subsidizing you. If you happen to be fairly wealthy and afford solar, who do you think can't?"
At the end of 2016, the 30 percent federal tax credit for solar installation will sunset. If the credit is not renewed, the future of residential solar may get a lot more expensive, threatening local installation companies (CPS subcontracts to private companies because, as a nonprofit, they cannot tap into the credit).
Energy Adulthood
Too often, sustainability becomes a buzzword. Full of sound, fury and a clean image, sustainability looks good, but packs a light punch when it comes to blows.
By attracting clean tech companies, San Antonio's sustainable punch can gain some real weight. Since CPS can't access renewable subsidies and tax credits, there's growing room for clean companies operating or headquartered in SA. Currently, CPS works with six clean energy companies, four of which are based in San Antonio. With all their projects finished, OCI Solar, the owner and operator of Alamo 1, will create 800 jobs.
And with the 2040 plan, the city can provide a guiding hand for the growth and care of San Antonio's sustainable future. "It's about coming together as a community and deciding who we want to be when we grow up," says Elnakat.