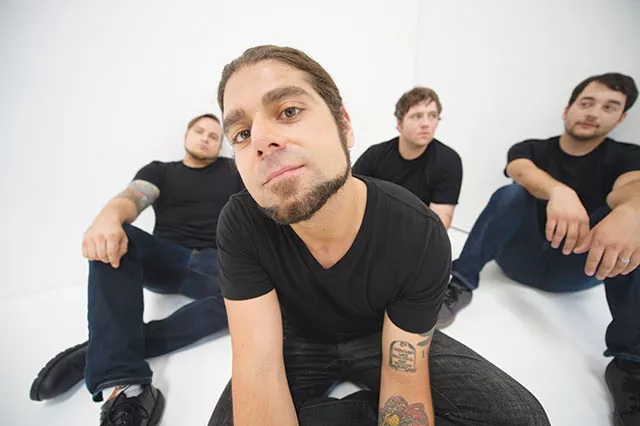 Courtesy photo
Singer-guitarist Claudio Sanchez and Coheed and Cambria on planet Earth, Travis Stever is on the left
For someone whose band only releases conceptual albums (one of which is titled Good Apollo, I'm Burning Star IV, Volume One: From Fear Through the Eyes of Madness), each taking place in a fictitious universe called Heaven's Fence and involving the husband-and-wife team of Coheed and Cambria Kilgannon, guitarist Travis Stever turned out to be a pretty down-to-earth dude.
"You're calling from San Antonio?!" he asked the Current last week, all excited. "Yeah! We're playing there in a couple of weeks! The White Rabbit, right?"
Right. This Saturday. It's a rare occasion when a touring act knows exactly where he's going to play and who's on the other line, and cares about it. "We always have fun going [to San Antonio]," said Stever. "There are a few places on our [tour schedule] that we don't remember, but I always remember coming there. I've had great experiences in SA and we're very excited to come back."
The band is touring in support of The Afterman: Descension, which came out in February and is the companion to 2012's The Afterman: Ascension. Stever spoke with the Current from a windy sidewalk in Rhode Island.
"The Amory Wars" concept was turned into a novel, the albums, and a series of comics books. How did you end up being a part of so many different worlds?
Claudio [Sanchez, lead singer and guitarist for Coheed and Cambria] led that incursion into the world of comics. That's really a world he's been in love with his whole life. I remember the first time he had the comic printed up, in 2002, [for] the first edition of The Second Stage Turbine Blade, our first record, it was really exciting for the band and for him. That was really his world and I've kind of been able to familiarize myself more [with] that world through him. That was really his dream that came true.
I suspect being a musician isn't enough to be able to play in Coheed—you need to be able to fully grasp what the whole concept is all about.
Well, you don't, honestly. The truth of the matter is, there are songs that are just based on real life experiences. Therefore, when it comes down to it, you can listen to Coheed and Cambria like you would any other band. In honesty, the real-life scenarios that Claudio is in, or even that the band is in, those are the things that dictate where the fiction goes. He's writing it like a normal writer would. I think he's always been more comfortable doing that lyrically ... he doesn't wear his heart on his sleeve as much because it's masked by this story.
-----------------
-----------------
[Former bassist] Mic [Todd] left in 2006, rejoined and left again in 2011, the same year [drummer] Chris [Pennie] left. Did their departures have anything to do with the fact that Coheed and Cambria isn't just a simple rock band?
No. If what you're asking me is whether the concept dictates how we're part of the band, no, that's not how it works. The concept does not dictate when I'm writing a guitar part or when Claudio's writing a guitar part. The concept is: Where he's going to go with it lyrically after he's already come up with the subject? How 'bout that? That's a good way to describe it. "[Here We Are] Juggernaut" was a song from Year of the Black Rainbow. It was about him and his wife; about them coming together and being a force to be reckoned with. But then it took on a whole new life when it became this thing in the story. It's almost like everything has two sides to it—the real side and the fiction.
Do you "conceptualize" your concerts in a similar way, or just put a bunch of songs together?
We put a bunch of songs together but we will have interludes and stuff to tie it in, almost make it like a moving story, in a way, throughout the set. Especially on this tour that's coming [to SA], we hand-selected a good amount of songs that seem to be really exciting people and also that we're going to have fun playing for them.
Coheed and Cambria feat. Balance and Composure, I The Mighty
$25-$30
Doors at 7pm Sat, Nov 2
White Rabbit
2410 N St. Mary's
(210) 737-2221
frontgatetickets.com