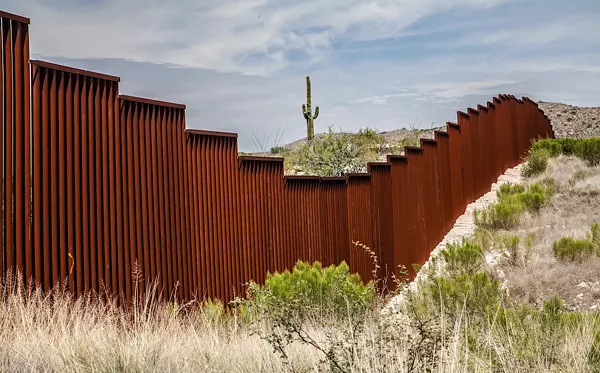 In May 1997, Esequiel Hernandez Jr., an 18-year-old U.S. citizen, was herding his family's goats along the Rio Grande when he heard a noise in the scrub and raised a rifle he carried for protection against coyotes.
One of four Marines patrolling nearby for drug smugglers fired on Hernandez, killing him. In the investigation that followed, federal officials claimed the South Texas high schooler shot first, but that did little to still the uproar.
In the end, the tragic embarrassment of Hernandez's death forced the government to scale back military deployments along he U.S.-Mexico border.
Until now.
Last week, ahead of the contentious midterms, Donald Trump announced he'd send up to 15,000 soldiers to the border to hold back a caravan of Central American migrants seeking asylum here. The order marked the largest domestic deployment of active-duty military in modern American history and could set dangerous precedents about the use of combat troops inside the United States, national security experts warn.
"What you really need down there are people trained in refugee and asylum-seeker operations," said Bishop Garrison, a West Point graduate and army vet who serves as interim director of the Truman National Security Project. "Instead, you're sending in something that looks like an occupying force."
Trump's promised deployment is more than the total number of U.S. military personnel mopping up the remnants of ISIS in Iraq and Syria, Garrison points out. What's more, the troops join 2,000 National Guardsmen the president already deployed to the border — many reportedly engaged in menial tasks because there's not enough work.
There's no official count of how many Central American migrants make up the caravan — published reports range from 3,600 to 15,000 – but it's clear that the migrants are primarily women and children and still weeks from reaching the border.
"Given this group of migrants is over a thousand miles away, this is a tactic used to instill fear among the American people, undermines the readiness of the military, and is a waste of federal resources as the National Guard is already deployed to the border," said U.S. Rep. Joaquin Castro, D-San Antonio.
Hardening the Border
Other presidents have deployed the military to harden the border. George W. Bush and Barack Obama both dispatched guardsmen to South Texas. But what troubles experts this time is both the use of active-duty personnel and the president's increasingly incendiary rhetoric.
As the midterms loomed, the former reality-show star worked to whip the Republican base into an anti-immigrant lather, pledging to singlehandedly strike down the constitutional guarantee of birthright citizenship and launching an anti-Democrat campaign ad that critics call the most racist in decades.
"This caravan isn't a national security issue," said Will Fischer, a former Marine and director of government outreach for progressive veteran group VoteVets. "If anything, it parallels Trump's demand for a military parade. He's never passed up an opportunity to use our military, our veterans or military families as political pawns."
Although armed, the troops are supposed to support border patrol operations and are under orders not to directly engage with migrants. Even so, Trump has repeatedly pushed a narrative that soldiers are prepared to fight.
"They want to throw rocks at our military, our military fights back," the president told reporters last week. "I told them to consider it a rifle. When they throw rocks like what they did to the Mexican military and police, I say consider it a rifle."
The overheated rhetoric raises concern Trump could try to skirt Posse Comitatus, a longstanding prohibition of using active-duty military for domestic law enforcement. Since that statute can be suspended in event of a national emergency, Trump's increasingly pitched warnings seems to set the stage for such a declaration.
"One of the things I'd watch for in particular is whether the military stays out of the patrolling business," said Mark F. Cancian, senior adviser for international security at the Center for Strategic and International Studies. "They're highly trained at what they do, but troops are very bad at dealing with civilians."
Mobilizing Militias
But the shit show doesn't end at Trump's virulent rhetoric.
Goaded on by the talk of a border crisis, members of armed right-wing militias recently announced plans to show up at the border with firearms in tow, according to the Associated Press. And the Military Times reported that deploying commanders were told to prep for threats including armed vigilantes and protesters intent on stoking violence.
"They're just laughing in our face," Texas Minutemen president Shannon McGauley told the AP. "It's a free-for-all in America."
Giving credence to the threat, the border patrol last week cautioned landowners to expect "possible armed civilians" to venture onto their property.
The concerns of vigilante activity come as the deeply divided country is already on edge from mail bomb attacks against prominent Trump critics and a mass slaughter at a Pittsburgh synagogue.
"I'm concerned about how the energy down there could play out," said Renelinda Arana Bressler, a sociology professor at Our Lady of the Lake University who tracks immigration issues. "I'm fearful that the rhetoric could have an effect on mentally unstable people looking to act on their anger."
Not So Subtle
Even if calm heads prevail, U.S. Rep. Henry Cuellar, D-Laredo, worries the deployment could be another black eye for a region trying to convince the rest of the country it's not a boiling cauldron of violence. In almost every case, crime rates in U.S. border counties are lower than the average for similarly sized inland counties, according to an analysis by the Wilson Center's Mexico Institute.
Cuellar warns that many Mexicans are likely to view the military escalation as the strongest warning sign yet that they're not wanted in the U.S. Since Trump took office, border crossings by Mexican citizens have dwindled, as have the dollars they spend at businesses in the congressman's district. Some, he added, have seen sales drop by half.
"They're afraid to come over right now," Cuellar said. "Some just say, 'What the heck? Why am I giving money to a country that doesn't respect me?'"
Beyond that, critics charge, the massive deployment may not just be an attempt to intimidate border crossers but established Hispanic communities in South Texas and beyond.
From the beginning of his campaign, Trump has stoked the fires of nativism and surrounded himself with nationalists including former advisor Steve Bannon and Stephen Miller, the main engineer of the president's immigration policy. Deploying armed personnel into South Texas sends a not-so-subtle signal.
"Since before the presidential election, Trump has tried to make it plain to the country that he thinks there's one American identity and that some people have a more legitimate claim to it than others," said Stephanie Martin, a communications professor at Southern Methodist University who tracks public discourses of conservative movements.
She also cautions that standard conventions about what a president can do with deployed troops may not hold true in this case. Trump has repeatedly shown his willingness to breach long-established expectations.
"My biggest concern is that we forget the norms of being in a functional democracy," she said.
Stay on top of San Antonio news and views. Sign up for our Weekly Headlines Newsletter.