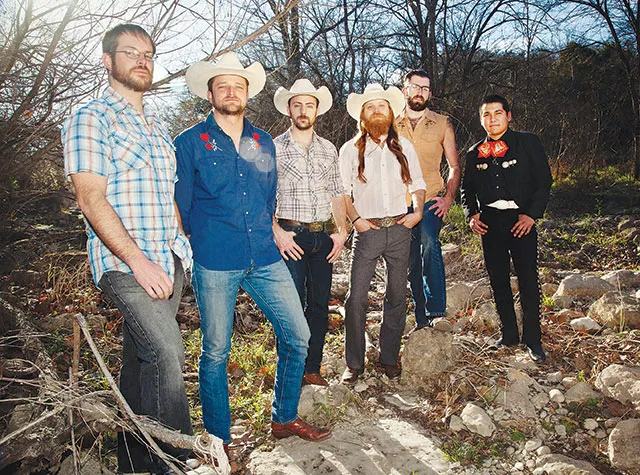 Courtesy photo
Crooks leader Josh Mazour (fourth from left) in a photo that says a lot about the band's sound (the mariachi dude is accordionist Anthony Ortiz Jr.)
You know the score less than a minute into Crooks' The Rain Will Come. The album dropped in 2012, but in the setting of opener "Bar Stool," hound dogs are law enforcement's main means of tracking perps and bar tabs are things you can leave open indefinitely without losing your debit card. Austin-based roots-country act Crooks don't seem too interested in the modern world, and Boerne-born frontman Josh Mazour confirms as much if you ask him.
"I definitely don't identify with the younger set," Mazour said on the phone while running errands in Austin. "Maybe [I identify with] just being reckless and not caring, but I think older people are generally who I gravitate toward, whether it's a songwriter or someone sitting around [at] a bar."
You might expect as much from a guy who wrote a song about "Peach Pickin'," and you might even be disappointed if a later song on the album bragged about a Tinder hookup­—but keep in mind Mazour is 31 years old, so his idea of 'back in the day' might seem a little silly to the old five-and-dimers.
"When it comes to anything modern," Mazour said, "I broke my laptop years ago and haven't ever replaced it, and I've got the first version of the iPhone. I don't download stuff on iTunes. I don't really identify with any of those kind of things. That might help you understand where I'm coming from. I probably identify more with the older way of doing things, with songwriting and just the way you get by in life and everything. I have an old 1972 truck and a beat-up old motorcycle. It's just the way I prefer to live life. I couldn't write a song about something modern. It would probably sound really, really strange."
An iPhone 1.0 probably ain't country enough to get David Allan Coe to kiss your ass, but Mazour is, after all, a man who came to the music his band currently plays through that seminal country classic, Nirvana: MTV Unplugged in New York.
"It had a lot of, like, just realness and soul to it," Mazour says of Kurt Cobain's swan song. "So I started looking into who did these songs that he's covering and found out about a lot of ... good songwriters that are out there. He didn't play anything by Townes [Van Zandt] or Blaze Foley or anything, but it still led me in that direction, toward more real, passionate songwriters."
Ultimately, tracing the roots of those Leadbelly and Meat Puppets covers led Mazour to the messiah of countless country converts.
"Once I found Hank Williams," Mazour says of the inspiration behind so many punks' adopted twangs, "it was kind of over. I liked that he can have just, like, the most depressing song there is, but he can still make it playful enough that it's engaging to the listener. People write, like, really sad, sappy songs and you listen to it and you're like, 'I feel terrible, I feel terrible and I can't get into that song,' but Hank could make them like playfully lonely, which is something that was really fun to listen to."
Mazour might've been raised on grunge, but roots revivalist and O Brother, Where Art Thou? soundtrack contributor Gillian Welch is Mazour's idea of a contemporary reference. The blend of old and newish, however, keeps The Rain Will Come from sounding like a tired rehash. Traces of Cobain are audible, especially on closer "Boulevard," and the South Texas pedigree is palpable on "Heart Achin' Town," which features a scorching accordion solo by guest star Flaco Jimenez. The result can be and is enjoyed by collectors of rare Hank Williams 45s and people who know the troubadour mostly as the dad of the Monday Night Football/Obama is Hitler guy.
"We get a lot of younger people who—a lot of times they're not really country music fans," Mazour says of a typical Crooks crowd. "They say, 'I don't really listen to a lot of country music, but you guys make it more interesting and fun for us.' ... But then we have tons of people in their 30s to 50s. ... It's like it's just weird enough to where somebody who's a country fan will say, 'It's different, but I still listen to it and I like it because it is different,' and a younger person is like, 'Well I don't really listen to country, but I like this version of country if that's what this is.'"
Crooks feat. Roger Creager
$15-$20
9pm Sat, Dec 7
Floore's Country Store
14492 Old Bandera (Helotes)
(210) 695-8827
liveatfloores.com