Looking for a way to support the water protectors protesting the Dakota Access oil pipeline
and
pick up a brand new Cruz Ortiz original? Tonight, Frank in Southtown is your spot.
As part of the San Antonio effort to raise money and supplies for the Native activists and allies camped out in North Dakota to block the pipeline's construction, ahead of a government-imposed December 5 deadline to evict the protest camps, Ortiz will sell prints of his new Standing Rock-inspired artwork, with the proceeds benefitting the movement.
The local fundraising drive
is spearheaded by SA activist (and District 5 council staffer) Jennifer K. Falcon, herself a Native journalist and a Fort Peck Assiniboine Sioux member, along with The Mix and Frank owners Blayne Tucker and Daniel Northcutt. From now until Friday, The Mix and Frank will be accepting "cold weather donations" to help the water protectors prepare for what's likely to be the rough road ahead (see the long list of supplies the protesters say they need
here
).
Falcon recently traveled to Standing Rock to join in the action over the Thanksgiving Day weekend, just days after law enforcement deployed water hoses, rubber bullets and tear gas against hundreds of unarmed protesters, injuring more than 300 – including a 21-year-old woman whose arm was nearly blown off by the so-called "less than lethal" response from law enforcement. Here's how she described the recent action in an email to the
Current
:
On Thanksgiving Day Water Protectors built a handmade bridge to cross the river to sacred land called Turtle Island so they could pray for our ancestors. Hundreds watched as a group of around 100 occupied the island as law enforcement in riot gear greeted them with guns and a water hose they used to intimate water protectors by threatening to to use it against them in freezing temperatures. The next day water protectors returned to find their medic canoes smashed and behind razor wire at the bottom of the island. Razor wire was also wrapped around the top of the island.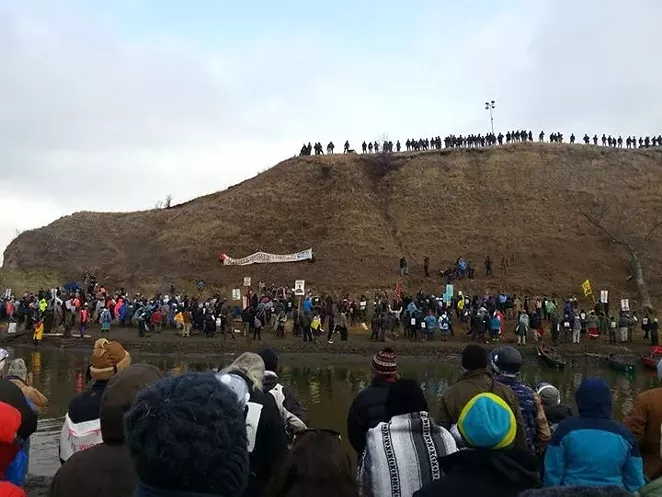 Courtesy Jennifer Falcon
Water protectors in Standing Rock tried to take a sacred site called Turtle Island over the Thanksgiving Day weekend
The main road into one of the camps, a road that the U.S. Army Corps of Engineers controls and has vowed to block come next week, is currently adorned on both sides with flags from the many organizations and tribes who stand with Standing Rock. This Friday, Falcon and others plan on taking a Cruz Ortiz-designed banner to place alongside the others to show that "San Antonio stands with Standing Rock."
Courtesy Jennifer Falcon
Local protesters will plant a Cruz Ortiz-designed banner next to these flags lining the main road to the Standing Rock protest camps.
From 7 to 10 pm on Tuesday, Ortiz will sell 18x24 Standing Rock posters for $40, or you can bring a blank T shirt and have the design screen-printed for $10. For more details,
see the group's event page
.