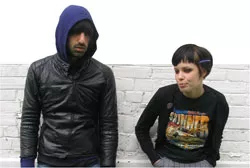 Crystal Castles have Pac-Man fever.
Crystal Castles
Composer:
Crystal Castles
Conductor:
Crystal Castles
Label:
Last Gang Records
Release Date:
2008-05-14
Rated:
NONE
Media:
CD
Length:
LP
Format:
Album
Genre:
Club Music
Toronto duo Crystal Castles are known (in hipster dance circles, at least) for their high-energy, Gameboy-fueled music, best displayed in "Alice Practice" and the very similar-sounding "Love and Caring," which feature glitchy, bent-instrument beats with shouted, muffled lyrics and hollow electronic bass hits. The artists' live show revolves around this shtick, focusing on frenetic lead singer Alice Glass clutching a strobe light and screaming indolently into her microphone while producer Ethan Kath pounds furiously on his keyboards. It's fun and fast and over quickly.
This debut album, however, reveals a more diverse, musically thoughtful group, one that's able to move from the Galaxian punk of "XXzcuzx Me" to the ethereal, acoustic-guitar-driven "Tell Me What to Swallow" to the wonderfully melodic "Untrust Us" in the same 50-minute stretch. It's this variety that makes Crystal Castles so listenable: Kath's warped production provides the epitomic background for Glass's sweet, stern, listless, exasperated persona (Kath himself adds New Wave-y vocals to a couple of tracks, including "Crimewave" and "Vanished"), as she yelps and growls and sighs vigorously. It's not brilliantly cutting-edge music, but it's distracting and interesting and can stand on its own. At least, that is, until the next Atari-carting duo comes along.
— Marisa Brown