(Courtesy)
Friday, January 17
The San Antonio Cocktail Conference heads to the Pearl Brewery for a night of Texas-based spirits. The event will showcase area bartenders as they mix drinks with 11 Texas brands. The night starts at the Weston Centre with cocktails hosted by Remy-Cointreau where attendees can hop on a river barge to get to the Pearl Stables.
$75, 6pm, 112 E Pecan, (210) 245-6964
(Courtesy)
Saturday, January 18
Wines from San Saba's Wedding Oak Winery will be showcased during this tasting at Vinously Speaking. Each wine will be paired with cupcakes prepared by Dealicious Cakes.
Free, 1-7pm, 7271 Wurzbach, Ste 117, (210) 793-4078
(Courtesy)
Saturday, January 18
Yes, there's such a thing as too many cocktails. Cleanse your palate with a beer during the cocktail conference's official Friendly Craft Beer Break. Chat with brewers and brewery reps while sampling some of the finest craft brews around.
Free with SACC ticket or $20 at the door which will be donated to ChildSafe and HeartGift San Antonio
4pm, 943 S Alamo, (210) 245-6964, sanantoniococktailconference.com
(Courtesy)
Sunday, January 19
Culinaria's Chefs for Chefs Brunch will once again bring some of the city's best culinary minds in together to support community in need. This year's beneficiary will be Steve Silbas, former owner of Casbeers, who's wife, Barbara Wolfe, passed away in December. Confirmed chefs include Jason Dady, John Brand, Mark Bliss, Blanca Aldaco, Zach Lutton, Steve McHugh, Diana Barrios Treviño and more.
$125, 11am-2pm, Biga on the Banks, 203 S St. Mary's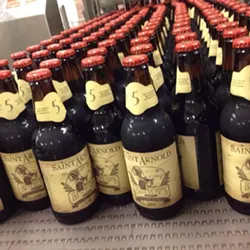 (Courtesy)
Wednesday, January 22
Stella Public House and Saint Arnold Brewing Company will team up for a tasty and rare flight. Sample 6-ounce pours of Bishop Barrel's No. 2, 3, 4 and No. 5.
$25, 5pm, 1414 S Alamo, (210) 277-7047