Josh Huskin
Left to right: Elise Broz and John Russ
John Russ, Executive chef, Lüke San Antonio
Elise Broz, Pastry chef, Biga on the Banks
Here's a fair warning: This article could very easily dive into cheesy territory at any minute. Elise Broz, the statuesque brunette with the twinkly eyes that helms the pastry department at Biga on the Banks, and John Russ, the dark-haired, blue-eyed N'awlins-bred executive chef at Lüke San Antonio, are a scratch-made match made in food heaven. If they were any more adorable, they'd be straight out of a Disney classic.
Although they're set to be married next October, the pair of chefs had an unlikely start.
"She hated me. I was semi indifferent," Russ said during an interview with the Current at Lüke. "It was oil and vinegar."
We managed to get the couple to sit down and talk about their relationship, a feat on its own as both keep quite busy, but we'll get to that in a minute.
They met at The Inn at Perry Cabin in Saint Michaels, Maryland, where Broz's father served as general manager, Russ was executive sous chef and Broz was pastry chef. "I would say we didn't get along," she said.
"I'm very focused at work and I don't have room for distractions," Broz continued. This eventually changed, as is wont to happen, prodded along by the teensy town they occupied. St. Michaels' population just barely tips the 1,000 mark and, as Russ put it, "There's two bars—one for the old folk and one for younger people." Several hang sessions later, over Dark and Stormies inside Broz's apartment, the initial cold shoulder turned into something more.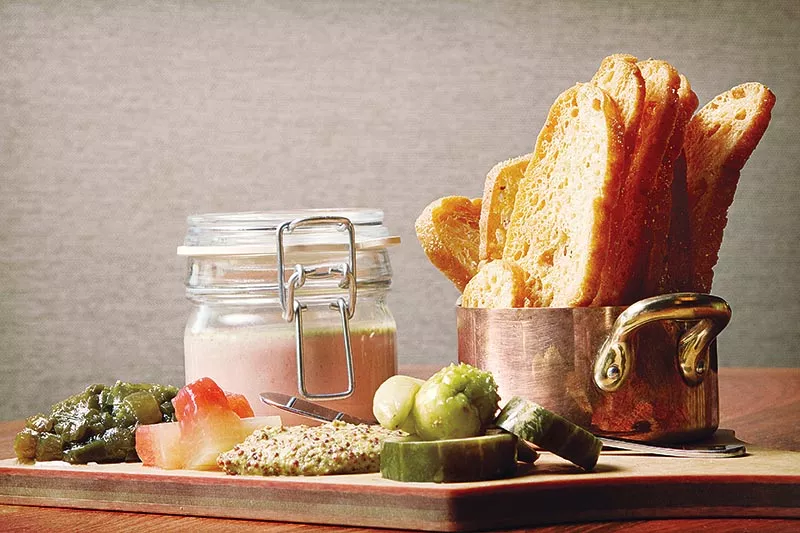 Courtesy
Charcuterie at Lüke, where Russ serves as executive chef
Four years later, Broz and Russ have made the Alamo City home after he was offered the executive chef position at Lüke San Antonio. But how exactly do they keep things mostly harmonious while in the chaos of busy kitchens? Even in the sleepy waterside town of St. Michaels, the pair was pulling 16-hour overlapping work shifts.
"We were learning each other's personalities [in the first eight months prior to dating officially]," Russ said. "We were basically figuring out what we liked, what we didn't like and we got past that because we understand each other's strengths and weaknesses."
For Broz, a seemingly Type A consummate baking professional, these strengths are being a "tremendous organizer." According to Russ, "She does a great job at keeping the logistics together."
Broz's take on her betrothed are that he can take on any kitchen challenge, even if there is no discernable stove. "You could blow the kitchen up and John would be fine. His strength is being able to build a kitchen anywhere, out of anything, anytime."
Their relationship's success, even while helping plan several specialty events, such as Russ' turn inside Austin City Limits' VIP food tent, an appearance at the Austin Food and Wine Festival, and five Alamo City Provisions events, also relies on two strict rules.
"Everything isn't always great all the time, but when we do have issues and we're working, we can leave those ... we can turn that off when we go into our personal lives," Broz said. Russ completed her thought (as they often did during our chat) by adding, "and vice versa, we can turn the personal life off when we go to work."
The second is a rule they implemented during their early days of dating—there'd be no talking about work while at home.
"We set how much time we could talk about work each night and after that it was over," Broz said.
David Rangel
Teamwork during an Alamo City Provisions event
They connect on several levels. Both hail from the South (Broz's family lives in Atlanta; Russ is from New Orleans); they've traveled extensively (albeit separately) through the U.S. (before working in St. Michaels, Broz and Russ held jobs in Illinois, North Carolina, Rhode Island, Florida, Georgia, New York, New Hampshire and Alabama); and their wanderlust took them abroad where he helped open hotel kitchens and she both interned and worked as a pastry cook in England and studied abroad in Switzerland.
They listen to NPR's This American Life, go on walks with Seth, their rather large Anatolian Shepherd/Great Pyrenees mix—a gift from Mark and Kelley Escobedo of South Texas Heritage Pork, whom Broz and Russ credit for introducing them to all their area friends.
"A lot of the 'normal' activities where I think people find their 'clicks' ... well, for us it's really being in the kitchen together, talking about the food, seeing how the other reacts to the food, what they love about it ... going back to our favorite restaurants are things we love," Russ said.
They spoil each other in the food department as well. According to Broz, Russ will make fresh pasta with sautéed garlic, olive oil and a mountain of cheese after coming home from a long day at Lüke. Jealous yet? In turn, the head baker in charge whips up a key lime pie using her grandmother's recipe that Russ can't seem to share. "I have to make sure we have company, cause he'll eat the whole thing," Broz said.
When they're not using their days off to visit their favorite local eateries (Kohinoor, Cascabel, Bliss, Niki's Tokyo Inn and the Hardbodies taco truck among them), they're collaborating with friends and local chefs. They teamed up with Pieter Sypesteyn, Diego Galicia, Rico Torres, Jesse Torres, Luis Morales and a slew of featured chefs to create Alamo City Provisions, the dining concept Russ dreamed up and Broz helped make a reality.
The goal for this chef super-group was two-fold. They wanted to showcase venues people might not be familiar with, while cooking with friends in a different way. The dinners are also meant to stretch their legs and push participating chefs to think about food in new, exciting ways. For their inaugural event inside the Josephine Theatre, the group turned their attention to game-heavy dishes of the Prohibition era and guests dined on a smoked ox tongue chef salad, elk tartar, terrapin stew (in which Russ introduced this eater to the virtue of eating turtle), canned quail and a pineapple upside-down cake (presented as a deconstructed take by Broz).
Subsequent events were held through the city's core. Dinner at Landa Gardens was themed after the chefs' favorite books; a Champagne reception opened the event at the Inn at Craig Place, which ended with a dessert buffet; a family-style fall harvest dinner at the Lambermont focused on the flavors of autumn in South Texas; and a recent installment at High Wire Arts featured dishes inspired by Edgar Degas, Andy Warhol, Georgia O'Keeffe and Piero di Cosimo.
"It's not just dinner, it's the whole experience," Broz said, of the evening that included cocktails and wine or beer pairings by Jesse Torres of Mixtli, along with music by Doc Watkins and The Marcsmen. "You get to hang out and meet the chefs; people like to interact with the people that cook their foods."
The dinners will kick back up again in the spring, as Broz and Galicia have successfully convinced the group to host a Game of Thrones-themed event in April in advance of the next season of HBO's hit show. In the meantime, Broz and Russ are already hard at work planning for February's Boucherie, a daylong celebration of fine swine and New Orleans cookery at South Texas Heritage Pork, but not before planning the food element for this January's San Antonio Cocktail Conference.
"The most exciting thing is the fact that it has grown at such a pace that they asked people like Elise and I to help," Russ said. After the success of last year's events, which increased the food items available, Russ is beefing up the offerings by tapping even more chefs from around the city to join the parties. The Stroll on Houston, which will serve as the Saturday party for the conference, will open up the IBC Plaza and double the number of eateries present.
"We've had the opportunity to meet people and build relationships we never would have because we're doing this," Russ said, while adding, "we're making sure there are the right chefs, of the right caliber, so people who have been enjoying themselves at the seminars can have something awesome to eat."
With Broz's logistical prowess, and Russ' leadership skills, the team has proven nearly unstoppable in helping propel the SA dining scene by ultimately pushing each other to be better.
"We definitely hold each other accountable ... he's also a great person to ask for advice," Broz said. "He pushes me when he's coming up with these crazy ideas and trying to make them happen. He's always there for support when I need it."