SA's close-knit creative community supports a good habit: pet rescue
In November 2004, Robert Rivard wrote an editorial in the San Antonio Express-News called, "How animals are treated helps define a city and its people." This was a call to arms that accompanied the paper's groundbreaking report on San Antonio's rampant animal population and care problem, and the poor job our city's infrastructure was doing of managing it humanely. We all received poor marks in that report, from the pound to the negligent pet owner, and we had to face the fact that together we were euthanizing 50,000 homeless animals, more per capita than any other city in the nation. According to Lisa Sandberg of the Express-News, San Antonio is about 15 or 20 years behind more progressive cities like San Diego when it comes to taking care of our animals.
A handful of San Antonio artists gather in Southtown with their rescued companions. From left, Catherine Walworth holds Lucy. Montana scratches Bonehead while Justin, Henry, and Girlfriend (who is up for adoption) mingle. Barry Austin has Buster by the leash, and John Mata holds Canela.
More recently, the City's Animal Care Services facility announced a 48-hour moratorium on new arrivals — too many pets in, not enough out to new homes. Whatever happened to the kind of public-awareness campaigns from my childhood that seemed to really make a difference? Remember the Indian who cried as he looked at all the litter? And the "Give a Hoot, Don't Pollute" cartoon that made kids scared to throw even apple cores on the ground? The only equivalent I can think of when it comes to controlling the pet population is Bob Barker's final parting on The Price is Right when, just as the winner was mid-leap in her halter top and bell-bottoms, he would turn and say, "Remember to have your pets spayed and neutered." He was looking at each of us through the magic mirror of the television screen, because just two unfixed cats, for example, turn into 420,000 in seven years.
I feel like I live in two worlds. One is my Eastside neighborhood, where the problem is right outside my doorstep — sometimes sleeping on it. The other world in which I live and work is the local art community, which is populated with a considerable network of dog (and cat) rescuers. The network is the beauty of the deal, because it's tough to take in a stray, perhaps sick, and emotionally bewildered animal. What you need is a web of people to call who will bring you kennels and offer practical advice.
Meg Langhorne and Montana (it's just "Montana," like "Cher") are central to the art community's animal activism. Both are consummate rescuers and foster way-stops. Montana makes housecalls to friends who are frazzled by their rescued animal, arriving like Mary Poppins with good food and holistic remedies. As a volunteer for Wildlife Rescue and Rehabilitation, Langhorne is the only woman I know who drives around with a net in her car, which is both fabulous and daunting. Montana and Langhorne have multiple dogs and cats, each with a harrowing tale to tell.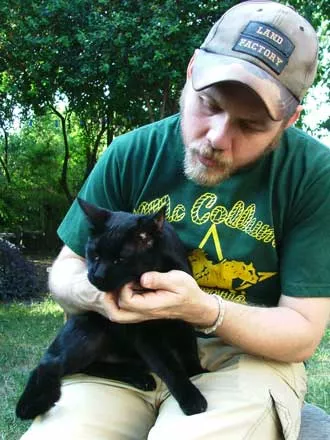 Chris Sauter gives Beep a chin rub.
Langhorne and partner Hills Snyder adopted three cats running wild on the roof of Artpace last year during Snyder's residency, as well as a fourth kitten that had holed up in the woodshop. They named this little cutie Buttercup, after the beloved local band.
A good number of these adoptive artists live in Southtown, near the Blue Star Arts Complex. Andrea Caillouet lived in a duplex there for years, where various pregnant cats would arrive and give birth.
"As the kittens got older, I caught all of them and brought them in to be spayed, neutered, and get their shots," said Caillouet. "Both Meg `Langhorne` and Riley `Robinson` offered to help split the costs. I tried to catch the mother cat but she escaped and did not come back ... until a few months later, with another litter."
Caillouet eventually nabbed the momma cat and had her spayed, but not before she delivered three more kittens.




Animal-rescue resources:

Animal Resource Center (ARC)
1615 S. Laredo
351-7729

Animal Defense League
11300 Nacogdoches Road
Information: 655-1481
Administration: 655-4982

Man & Beast Inc.
590-7387
Has discount coupons for participating area vets.

SARA Sanctuary
P.O. Box 813
Seguin, TX
(830) 401-0280
Sarasanctuary.org

Spay and Neuter Assistance program
673-7722
snaptx.org

WildLife Rescue and Rehabilitation
wildlife-rescue.org





Of these litters, some made it and some didn't, some got fixed and took off to continue their wild life. Caillouet nursed several through eye infections and exurbanite vet bills. The lucky survivors include Aunt Blanche and Uncle Belvedere, who are with her seven years later. Zeek and Moxie now belong to folk artists and RC Gallery proprietors Rhonda Kuhlman and Chris Ake. Ping and Pong were adopted by Chris Sauter, and Langhorne took Mouse.
In the retelling, this sounds like a pretty good solution, but it is a lot to ask of one person to take all of these animals to the vet, suffer through the deaths, and try to find good homes for the healthy ones, especially when it's not his or her pregnant cat in the first place.
Artist and Unit B Gallery co-director Kimberly Aubuchon named one of her cats Franklin Mint, after Frank Sinatra and the "mint" she paid (in part by selling her books and records) for the major surgery he required.
"Both of my cats were born under my apartment building on Magnolia and Howard streets back in the '90s. Their mother, who I will refer to as 'The Tramp,' produced over 10 litters in the three years that I lived there," recalled Aubuchon. "I was working at Half Price Books on Broadway at the time and there were several animal activists employed there. We used to foster them in a vacant bathroom, just off of the religious section upstairs." Aubuchon and her co-workers raised funds for spaying and neutering from big-hearted customers.
When you go to San Angel Folk Art in the Blue Star Arts Complex, first the door jangles, then the birds chirp, and then you hear the tiny jingle of Lolita, Leigh Anne Lester's Chihuahua-mix, running to greet you.
"Montana brought her to me after we had lost our `dog` Humphrey and she felt that we, Lolita and me, would be a good match. One beer later, we were hooked at the hip," said Lester. "After having Humphrey for 17 years, it broke our hearts to lose him. But once you decide to open your heart to another furry child, it is at once scary and lovely. The best choice."
Artist Karen Mahaffy met her puppy match one day by chance: "His name is Franklin and he found me in a Palo Alto parking lot after a night class I was teaching. He was hopping around on three good legs. He ran right up to me and put his head in my lap and I loaded him in the car to the vet." Karen discovered that the white stripes on his nose were caused by his mouth having been bound shut — a cruel solution, apparently to keep him from barking. Franklin still bears the physical scars, but perhaps not the emotional ones, now that he has Karen. Similarly, Roger Stephens of Green Gallery adopted a dog named Bruno, a Katrina refugee with scars of his own. Roger, who suffers from chronic pain, and Bruno, with his range of illnesses, are making each other well and happy.
So, the next time you go to an art opening, look around for whichever friendly critters are nearby and give them a scratch. Because in this town, it seems, behind every good artist is a good pet.