A San Antonio student joins the gamers who are going pro
The names Fatal1ty, Team 3D, and Zid may not mean much to the casual video-game player, but for those who consider themselves true gamers, they are superstar monikers. Professional gaming, or e-sports, has grown exponentially since the Cyberathlete Professional League held its first tournament in 1997. Professional gaming has developed into full-time employment, not only for a handful of players in the United States but for champions around the world. At major tournaments, gamers who finish in top spots can take home anywhere from $10,000 to $150,000. And while it may be nearly impossible to make it to the upper echelons, David "Zid" Chin, a high-school senior from San Antonio, recently broke through.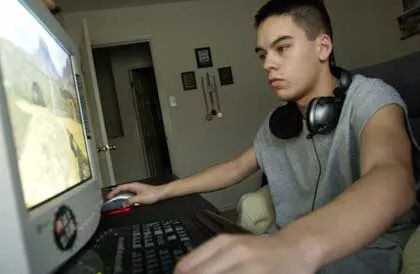 San Antonio high-schooler David "Zid" Chin is preparing to compete in qualifying matches for the Electronic Sports World Cup, which will be held in Paris in July.
(Photos by Mark Greenberg)
"It's definitely hard," said Chin, who is preparing for the Electronic Sports World Cup Qualifier, which will be held in May. "You got to keep playing."
According to CPL's George Kaspiris, anyone who takes part in the major tournaments can call him or herself a professional. But only perhaps 25 gamers in North America make enough money through tournament earnings, endorsements, and sponsorships to live off of video games alone. Some players — like Jonathan "Fatal1ty" Wendel, who is one of the top-ranked players in the first-person shooter Painkiller — have been able to start product lines for clothing, computer hardware, and software. Sponsors are investing heavily in the market: Intel and the computer-graphics company NVidia, for example, support Team 3D, one of the top teams playing the most popular competitive video game in the world, Counter-Strike.
The professional computer-gaming world awarded $3 million in tournament money last year alone, says Trevor Schmidt of GotFrag, an independent website that covers the world of professional gaming. Among the major competitions is the CPL, which runs championships twice a year and will participate in the World Series of Video Games this summer.
"It has the largest cash prices, the best teams, and a long history," said Michael Miller, an avid Counter-Strike player for five years. Counter-Strike, released in 1999, is an on-line tactical shooter made up of teams of five playing against one another. Players' success depends on their skill and experience in deploying team-based tactics and understanding a range of maps and weapons.
Other major competitions include the World Cyber Games, which has an Olympic-style format, with teams from countries including the United States competing against one another. Team 3D took first place in Counter-Strike at the WCG at the end of last year. The Electronic Sports World Cup runs a format similar to the World Cup, holding preliminary tournaments across the globe before hosting a world championship, which this year will take place in July in Paris. If Zid's team qualifies, he'll spend part of the summer in France's capital.
According to Miller, who plays Counter-Strike 1.6 as part of a team on the Cyberathlete Amateur League, a subsidiary of the CPL, it is very hard to get the experience necessary to elevate one's game to the highest level. In the CAL, clans, or teams, play five-on-five matches against one another. However, clans can play at five levels, and teams must perform well enough at each one before CAL organizers invite them to the top level: CAL-Invite (CAL-I), where the pros play.
Team 3D founder Craig Levine estimates only four or so teams each year actually move up to the Invite level in the CAL, out of 20 in all. (The bottom four finalists in CAL-I are not invited back.)
"You have to get in from the ground up," Miller said. Players who are still at the top are the same ones who were there when the CAL first opened, according to Miller. He noted that the pros have no reason to play gamers who have not made it to the top, because practicing against clans who aren't as good won't help them stay competitive.
But Chin was a successful late-comer. He began playing three-and-a-half years ago, forming a team with his friends and eventually working himself up the CAL ladder. He became part of Jax Money Crew, a team that placed third last year at the CPL winter championships. Since then, he has joined United 5, where he is the only Texan. Two of his teamates are from California and two are from Canada. Three, including Chin, were recruited from Jax. "Pretty much I got my name out there and they came to me," says Chin.
As the competitive gaming world has grown, so has the celebrity of the gamers. In Korea, professional gamers are worshiped like rock stars. Levine, who founded Team 3D in 2002 as a freshman business student at New York University, expected the team to be treated royally on a recent trip to China to compete in a series of boot camps against the top teams from that country. Although Levine no longer plays, he has managed the crew since its inception, working to make Team 3D one of the most recognizable professional gaming teams in the world.
Chin aspires to those heights. He already has sacrificed a week of school to compete, and he doesn't expect his gaming schedule to let up when he begins college later in the year: "I'm probably going to be focusing more on Counter-Strike."
Follow Zid and United 5's progress through the Electronic Sports World Cup official website, Esworldcup.com.