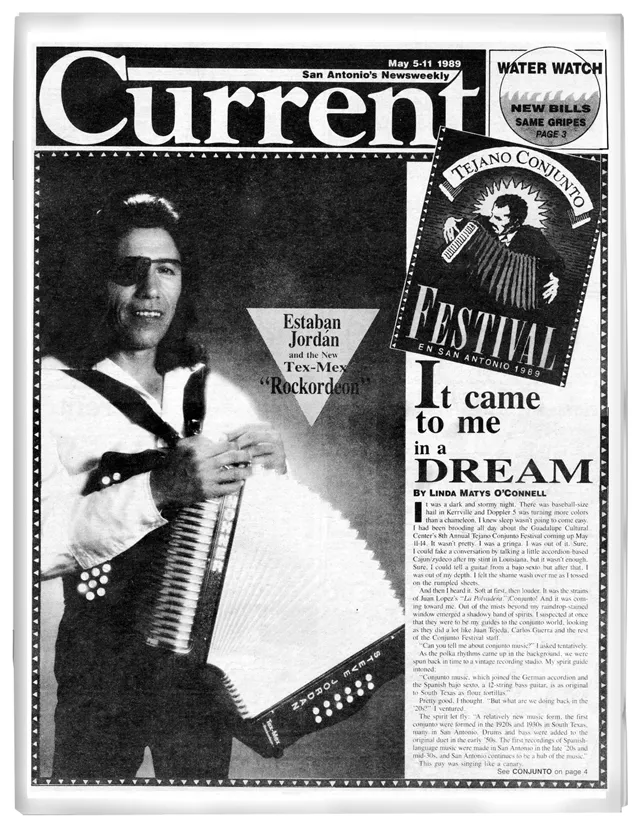 If Esteban "Steve" Jordan had earned a buck for every person who ever called him a "genius," he would've died a rich man. His last shows at Saluté often took place in an empty room, but he never ceased to show up and give his very best, even in the months before his death in August of 2010. "He didn't care if it was standing-room-only or just a guy behind the bar," said bajo sexto legend Max Baca. "He was the consummate professional and kicked ass till the very end."
["El Parche" Slips Away: R.I.P. Esteban "Steve" Jordan]
In 2009, Hohner USA launched the Steve Jordan Rockordeon accordion reissue (which Jordan helped design) in his honor. Before and after that everyone from Carlos Santana and Brave Combo to protégée Juanito Castillo attested to the fact that Jordan was beyond conjunto: He was, as someone once said, the "Hendrix of the accordion," a man who saw beyond the immediate, crowd-pleasing cumbias and polkas and extended the instrument with fast, sophisticated jazzy runs.
"If you wanted to play with him, you had to be ready," said Baca. "Oftentimes he wouldn't tell you anything, and you had to follow. He was fast, and he was amazing."
Baca was there the first time that Flaco Jiménez and Jordan played together. It was 2002, and Los Texmaniacs and Jiménez were playing at the Tejano Conjunto Festival in Rosedale Park. Suddenly, Baca noticed Jordan standing by the side of the stage with his accordion. "He wasn't supposed to play or anything," said Baca. "He just appeared out of the clear blue, and I told Flaco, 'Look!' "
Jordan was invited in and, as always, gave a command performance.
"They played 'Las Mañanitas' and 'Viva Seguin' together, and then people went ballistic when Jordan played solo," said Baca. "He did 'La Traicionera' and a squeeze-box rock jam with me, Speedy [Villanueva on bass], Joe [Guzmán on drums], and Oscar Tellez got on the percussion. It was awesome. We played far-out jazz, heavy duty, at a high speed. He was way ahead of his time, musically. He didn't copy anybody."
Now Jordan is gone, and people are already talking about successors. Actually, one successor, to be exact. His name is Juanito Castillo, a 23-year-old blind musician who plays 14 instruments and drummed for Jordan during his last two years. According to Hohner USA's Gilbert Reyes, Jordan once said, "Juanito is the only one who gets near to what I was able to do as a player." And Jordan's brother, Bonifacio, confirmed that Jordan "always said Juanito was a genius."
But Castillo, as the Express-News' music writer Hector Saldaña aptly put it, "is no Jordan." Castillo is his own thing, and — full disclosure — that's why I've been involved in a Castillo documentary for the last few years. What he is, exactly, besides an amazing player, is still to be determined.
We do know who Jordan was: an artist who understood that art and discipline come first. While most were busy trying to play "what people want," Jordan was consumed with outdoing himself and stretching the range of his instrument further than anyone. That's why no one could touch him while he was alive, and that's why there will never be another like him.