Thu 9/8 - Sun 9/11
The Foreigner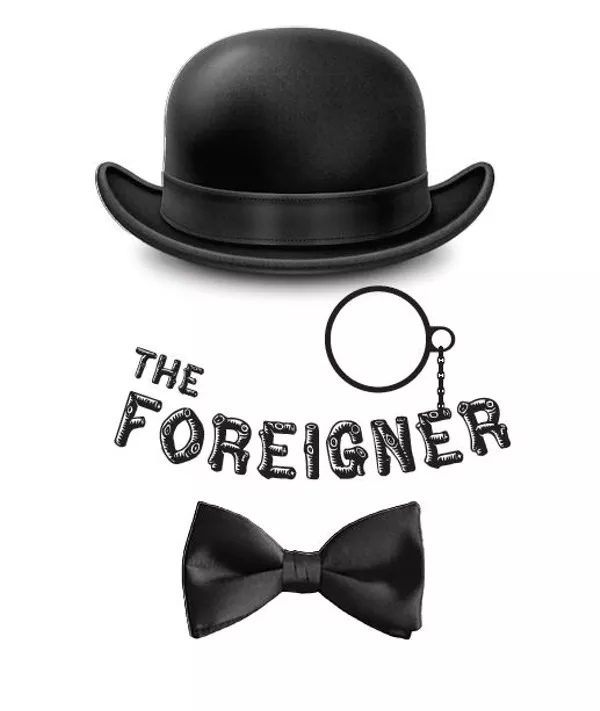 Likened by theater critic Ben Brantley to "a
Beverly Hillbillies
or
Green Acres
episode with a social conscience,"
The Foreigner
is one of two enduring farces left behind by Larry Shue, a playwright and actor who died in a 1985 plane crash at age 39. Only slightly lesser known than his slapstick, dinner-party comedy
The Nerd
, the Obie Award-winning play follows tragically shy British proofreader Charlie Baker to a rural fishing lodge in Georgia where he masquerades as a foreigner from an exotic locale. Although introduced by his pal "Froggy" LeSeuer in hopes of sparing him from having to talk to strangers, Charlie's purported otherness only gets him closer to the assembled oddballs and rednecks, their dark secrets and a plot to convert the lodge into a stomping ground for the Ku Klux Klan. Ken Frazier and Dylan Brainard co-direct Jared Stephens and Michael Burger in The Vex's production.
$16-$22, 7:30pm Thu, 8pm Sat, 2:30pm Sun, Barshop Jewish Community Center, Sheldon Vexler Theatre, 12500 NW Military Hwy., (210) 302-6835, vexler.org.
— Bryan Rindfuss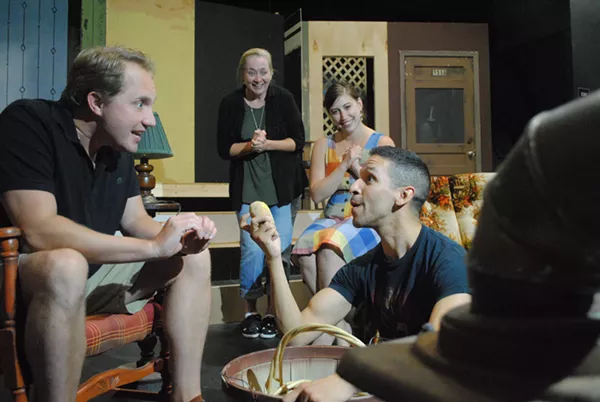 Courtesy of the Sheldon Vexler Theatre
Fri 9/9 - Sun 9/11
Evita


The Woodlawn brings Andrew Lloyd Webber and Tim Rice's award-winning musical
Evita
to its stage under the direction of Christopher Rodriguez and Josh Pepper. Controversially immortalized in a film starring Madonna in the title role,
Evita
chronicles the life of the charismatic first lady of Argentina, Eva Perón, who rose from childhood poverty to become a powerful voice for change in Argentine politics. The musical follows her trajectory from a young starlet in Buenos Aires to a vice presidential candidate, underpinning her story with a score inflected by jazz, pop and Latin music. If you can afford to have "Don't Cry for Me, Argentina" in your head for the next week (which isn't really such a bad thing), this production is definitely worth checking out.
$17-$26, 7:30pm Fri-Sat, 3pm Sun, Woodlawn Theatre, 1920 Fredericksburg Road, (210) 267-8388, woodlawntheatre.org.
— Kelly Merka Nelson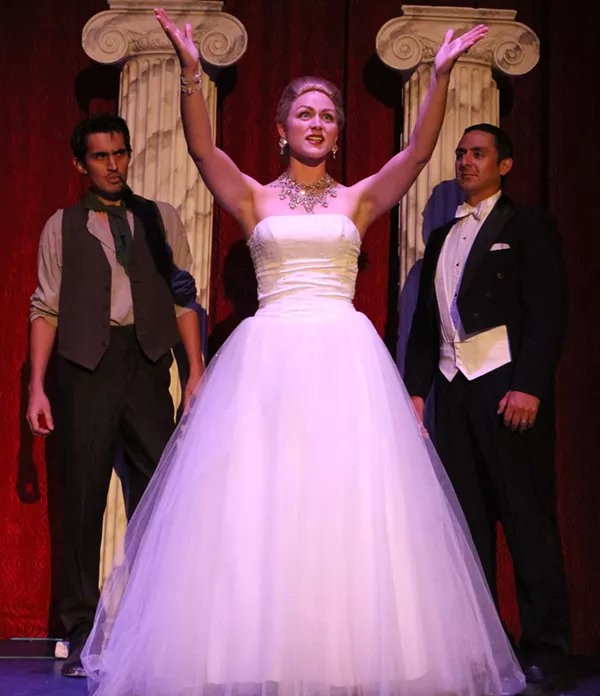 Courtesy of the Woodlawn Theatre
Fri 9/9 - Sat 9/10
Ghostbears


While it champions Texas-bred productions, the wild and wacky Overtime Theater also stages offbeat works concocted by like-minded playwrights from across the nation. Given his track record fusing Goth culture, Netflix fandom and David Attenborough-inspired nature docs (
Among the Squirrels
), not to mention setting a Greek myth in a 1950s-era Arizona diner (
Iphigenia in Kingman
), it's safe to say Wisconsin-based gay playwright Eric Appleton is a promising fit for San Antonio's "theater for the people." Set in his home state, Appleton's new offering
Ghostbears
follows Ted Meriwether, a "burly, bearded" guy who ditches his condo and buys an old house in the middle of "rural nowhere" after getting dumped by his longtime boyfriend. Beyond the distractions of a pregnant pizza delivery girl and a potential new bear boyfriend, Meriwether's newfound country life gets disrupted when paranormal investigators barge into his purportedly haunted house in search of an axe-wielding ghost and a "devil baby." Kareem Dahab directs Robert Cardoza Jr., Sylvie Flournoy and Jonathan Schell in the world premiere.
$10-$15, 8pm Fri-Sat, The Overtime Theater, 1203 Camden St., (210) 557-7562, theovertimetheater.org.
— BR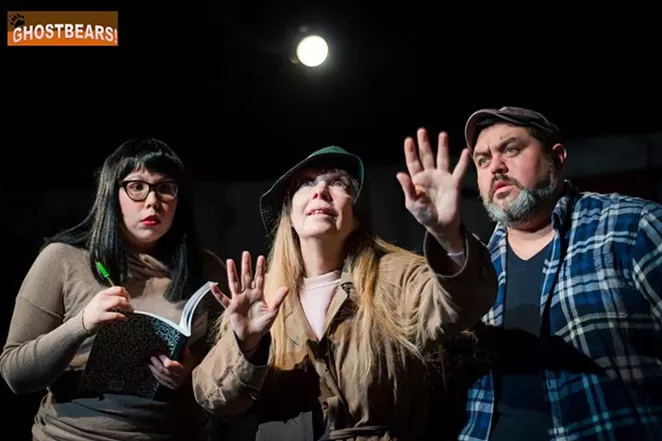 Courtesy of The Overtime Theater