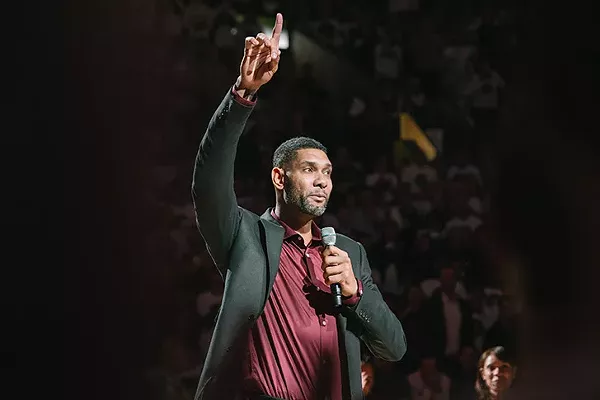 Tim Duncan's basketball odyssey began roughly 2,275 miles
away from San Antonio in his native Saint Croix. After embracing hoops his
freshman year of high school, he was soon off to Wake Forest to earn his
college degree, a rarity for a member of the Prep-to-Pro generation. On Sunday
night, inside the arena he built, Duncan ended the Texas leg of his journey, at
least as a player, when his No. 21 became the eighth jersey in Spurs history to be
retired.


Joined at center court by his family, coaches, and former
players, San Antonio's low-maintenance superstar provided Spurs faithful with a
sense of closure, transforming a frigid regular-season night into something
special. Duncan's longtime quarterback, Tony Parker, joked about Duncan's
expressive eyes before acknowledging the importance of their friendship over
the years.


"That's another reason why he's special," Parker said with a
smile. "He doesn't have to talk to get the ball. You just give him the ball."


The other member of the San Antonio's iconic Big Three, Manu
Ginobili, recalled a 2006 playoff loss to the Sacramento Kings, after which it
was Duncan who lifted his spirits. While praising his former teammate in
heartfelt passion, Ginobili also took the opportunity to thank him for their
success on the court.


"Thank you very much for all these years," said Ginobili.
"Thank you for the four rings I have in my home because of you. Thank you for
making me better and everybody that played with you."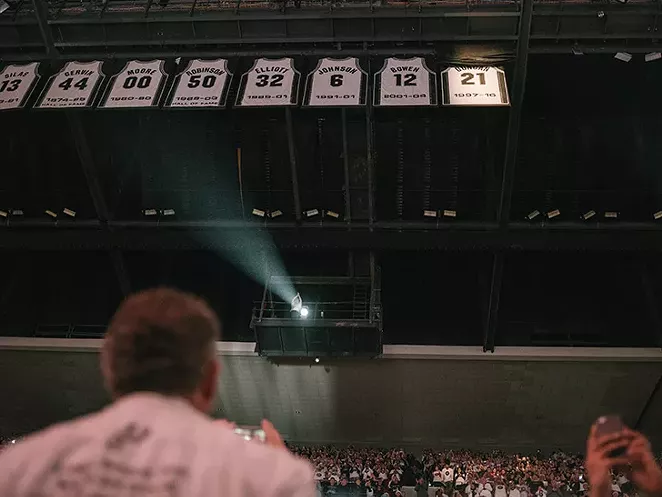 Duncan's only professional head coach, Gregg Popovich, spoke
fondly of Duncan's quirks, like wearing his shorts backwards and a fondness for
carrot cake. Holding back emotions, Popovich reminisced on his first visit to
Saint Croix before recognizing Duncan as the foundation for his program.


"You allowed me to coach the team," beamed Coach Pop.


Decked in a black suit and burgundy button down, Duncan
spoke for almost five minutes when it was his turn in the spotlight. A tribute
video produced with his brother, filmmaker Scott Duncan, touched on his love
and respect for the game, which was echoed in Duncan's remarks.

"I've heard
from teammates, from the guys I've been with forever, to guys I played a year
or two with, to these jokers over here," said Duncan. "Just an amazing
response, and just an overwhelming amount of love from these guys for what I
meant to them. And it doesn't even explain how much they meant to me because I
got so much more from you guys, from my teammates, than they can explain that
they got from me. And I know that."


Duncan's final basketball farewell will come as part of an
unprecedented 2021 Hall of Fame class that will likely include Kevin Garnett,
Kobe Bryant, and Ray Allen. As he reminded us via big brother Scott's video
however, "Seasons come and seasons go but the game and this team will go on.
There are no goodbyes."