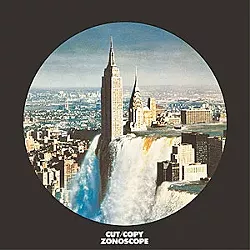 Cut Copy: Zonoscope
Label:
Modular Recordings
Release Date:
2011-02-09
Rated:
NONE
Genre:
Recording
On Zonoscope, this Australian dance-rock band takes a small step away from the dance floor. Album opener "Need You Now" starts out with a pulsing synth beat, undercut by handclaps and shimmery curtains of tinkling keys, broadcasting itself as a dance-floor number set squarely in the band's comfort zone. The earnest and earthly vocals of Dan Whitford pin the song down and keep it from raving up despite the electronic atmosphere's best efforts.
"Where I'm Going" shuffles along like a lost '60s pop gem, conjuring Brian Wilson all the while. Tribal melodies and rhythmic patterns pop up repeatedly, as on the Men at Work re-work "Take Me Over" and the almost eerie New Wave warp of "Blink and You'll Miss a Revolution." As with many moments here, those rhythms are almost danceable, but the arrangements are off-kilter enough to encourage more head-scratching than ass-freeing.
In a way, it's as if Cut Copy has decided to make a New Wave-influenced, dance-music version of post-punk anti-dance music. It's subtly subversive and occasionally brilliant. The syncopated rhythms of the album's one true barnstormer, "Sun God," grab hold immediately, and the track weaves synths on top of the percussion undercurrent, culminating in tingling body music that almost makes you think the rest of the album was just a tease.