How do you balance the care-free nature of a spontaneous vacation selfie with the somber recognition of the systematic genocide that claimed the lives of millions of Jews? You don't. Just ask Danny Green.
The San Antonio Spurs guard, who is currently in Germany with the team for an exhibition game against Alba Berlin, quickly apologized for a social media faux pas made during a visit to the Holocaust Memorial. According to Deadspin, Green posted a photo of himself at the site on Facebook with a caption that ended with "lol #Holocaust." And make no mistake, there is nothing that is laugh out loud about the Holocaust.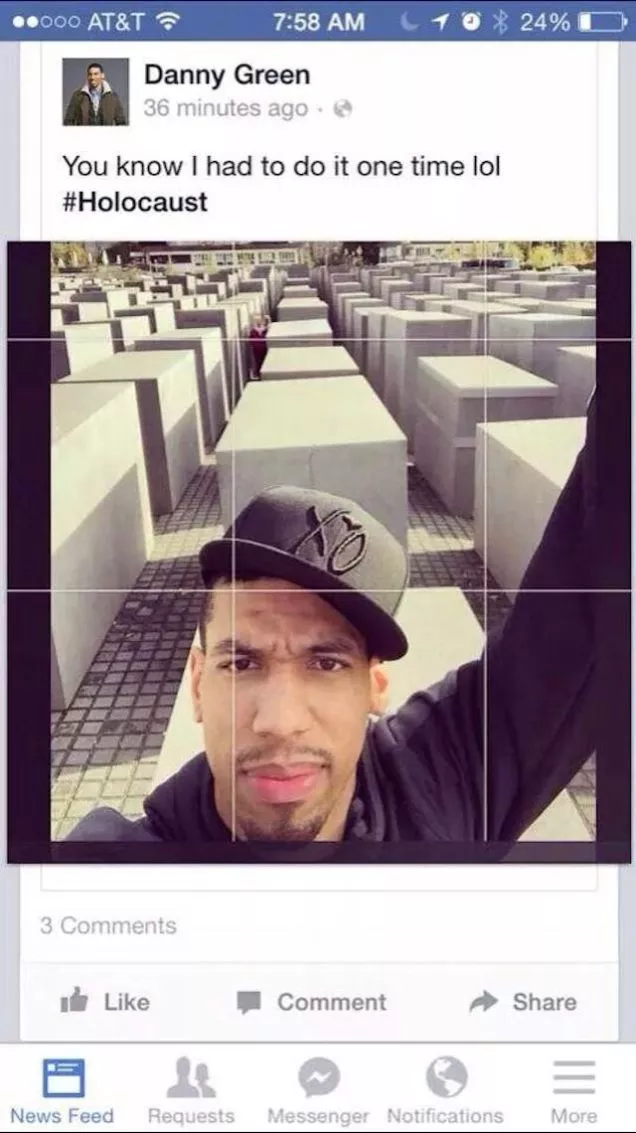 Photo via @TopRaiderFan
To his credit, Green recognized his lack of social media decorum and took to Twitter to issue out a series of rapid-fire apologies.
Yes, mistakes do happen

— Danny Green (@DGreen_14) October 8, 2014
I want to sincerely apologize for the insensitivity of my post! — Danny Green (@DGreen_14) October 8, 2014
I have great respect n understanding for this country's history n wanted to continue chronicling my experience in Berlin

— Danny Green (@DGreen_14) October 8, 2014
Clearly this was an unfortunate lapse in judgment on Green's part. Let's all consider this a lesson on how casual internet slang is probably not the best idea when you're paying your respects at a memorial for one of history's greatest atrocities.